André Øvredal directed "Trollhunter," a horror fantasy shot in found-footage style that premiered at the 2011 Sundance Film Festival.
By Vanessa Zimmer
Summer extends her sun-kissed hand. "Come with me and discover new adventures," she whispers, pointing toward the cool, darkened theater.
She stops, hesitates, and smiles at a new thought. "But first, go home and get acquainted with their storytellers."
In other words, it's time for the films of summer and the hottest filmmakers of 2023 — who also happen to have connections to the Sundance Institute and the Sundance Film Festival.
So, before venturing out to the neighborhood movie theater, warm up with the directors' and writers' earlier works from the Sundance family vaults.
BEFORE YOU SEE THE BOOGEYMAN…
An adaptation of a Stephen King short story, this horror film directed by Rob Savage performed so well in test screenings that it was diverted from its destiny in the streaming world to go straight to the theater. And, yes, it involves a monster in the closet. Releases June 2.
At the 2017 Festival, writer-director Savage screened a short film that centers on a number of deaf people as an apocalyptic pulsing sound wipes out the hearing population. Available on YouTube.
BEFORE YOU SEE TRANSFORMERS: RISE OF THE BEASTS…
This latest in the Transformers franchise focuses on the Beast Wars line, the robots that change into robotic animals. The story, directed by Steven Caple Jr., is a sequel to the popular 2018 Bumblebee. The voice cast includes Michelle Yeoh, Pete Davidson, Ron Perlman, and Peter Dinklage. Releases June 9.
Caple wrote and directed this 2016 story of four teens who dream that their skateboarding skills will pay their ticket out of poverty. But then they find a bag of pills, which they turn into easy money — until they get entangled with a drug gang. "More than a crime drama, The Land is a beautifully rendered story about friendship, values, and what it means for disaffected youth to come of age on the streets of Cleveland," Shari Frilot writes in the Festival Program Guide. Check viewing options here.
BEFORE YOU SEE PERPETRATOR…
Jonny is a rebellious teen sent to live with her aunt (Alicia Silverstone). When several young women from her school go missing, a "mythically feral" (according to IMDb) Jonny sets out in pursuit. Written and directed by Jennifer Reeder. Releases June 11.
… WATCH A MILLION MILES AWAY
Writer-director Reeder created this 28-minute musical film, set to a 1980s beat, about a "supernatural coming of age," according to the Festival Program Guide. It screened at the 2015 Festival. Check viewing options here.
BEFORE YOU SEE ASTEROID CITY…
Wes Anderson's much-anticipated sci-fi film features an all-star cast (Scarlett Johansson, Jason Schwartzman, Tom Hanks, Tilda Swinton, among others) in a story set in 1955 in a sleepy desert town where stargazing is a popular pastime. Rumor has it that a world-changing event takes place. Releases June 16.
At the 1993 Festival, a virtually unknown Anderson brought his short film called Bottle Rocket, starring two also-unknown actors, Owen and Luke Wilson. The Wilson brothers play quirky friends who plan to subsist on burglary. The short caught enough attention to warrant development into a feature-length film, released three years later. The short is available on YouTube.
BEFORE YOU SEE INDIANA JONES AND THE DIAL OF DESTINY…
The world is not the same as when archaeologist Indiana Jones (Harrison Ford) started out five movies ago. But he'll pick up that bullwhip and don his adventuring outfit once again when it appears a powerful artifact might fall into dangerous hands. Directed by James Mangold. Releases June 30.
At the 1995 Festival, writer-director Mangold won a Special Jury Award for Directing with his story of a shy, heavyset cook named Victor (Pruitt Taylor Vince) who works at his mother's (Shelley Winters) bar and diner. He develops a crush on the new waitress (Liv Tyler), but he can barely talk to her. "Beautifully enacted, subtle and deliberate, Heavy establishes a tone and atmosphere that perfectly capture the depression and insularity of Victor's existence," writes Geoffrey Gilmore in the Festival Program Guide. Check viewing options here. Mangold also directed the Sylvester Stallone–starrer, Cop Land, a film supported by Sundance directing and screenwriting labs in 1994.
BEFORE YOU SEE MISSION: IMPOSSIBLE – DEAD RECKONING PART ONE…
Tom Cruise and crew embark on impossible mission No. 7, as Sundance alum Christopher McQuarrie directs his third film in this franchise. We've been hearing about the awesomeness of the stunts. Releases July 12.
… WATCH THE USUAL SUSPECTS
McQuarrie is also a screenwriter — make that an Oscar-winning screenwriter. He won his Academy Award for The Usual Suspects, a mystery thriller with some memorable twists and turns, from the 1995 Festival. The film features an amazing ensemble cast that includes Gabriel Byrne, Kevin Spacey, Benicio Del Toro, Kevin Pollak, and Stephen Baldwin. Check viewing options here. McQuarrie was also a co-writer on Public Access, a 1993 Festival film that won a Grand Jury Prize in the dramatic category.
Margot Robbie and Ryan Gosling play dynamic toy duo Barbie and Ken in a movie with the tagline: "She's everything. He's just Ken." Greta Gerwig directs, from a script co-written with partner Noah Baumbach. Releases July 21.
In addition to acting in a slew of Festival films, Gerwig co-wrote (with Baumbach) this story about a college freshman who is lost and lonely until she is taken under the wing of her stepsister-to-be (Gerwig). "Featuring incisive dialogue and boundless wit, Mistress America is a ride through New York that captures the hopes and dreams (some shattered) of those who are drawn there," according to the Festival Program Guide.The film played the 2015 Festival. Oh, and Baumbach directed. Check viewing options here.
BEFORE YOU SEE OPPENHEIMER…
Cillian Murphy is J. Robert Oppenheimer, the scientist who helped develop the world-changing atomic bomb, in this much-anticipated film directed (and adapted from the book American Prometheus) by Christopher Nolan. Releases July 21.
Nolan directed Memento, adapted from a story written by his brother, Jonathan, about a man (Guy Pearce) with short-term memory loss who is attempting to solve his wife's murder. "The audience knows only what Leonard [Pearce] can piece together from various photographs, charts, notes, and tattoos, which serve as his memory," Trevor Groth writes in the Festival Program Guide. "Every detail may help discover an answer, but if misinterpreted will only compound the problem." The film played the 2001 Festival, where it won the Waldo Salt Screenwriting Award. The Nolan brothers share the screenwriting credit, also drawing an Oscar nomination for the writing. Check viewing options here.
BEFORE YOU SEE HAUNTED MANSION…
An all-star cast (LaKeith Stanfield, Jamie Lee Curtis, Winona Ryder, Danny Devito, Jared Leto among them) peoples this story in which a single mom (Rosario Dawson) hires a psychic, a historian, a priest, and a tour guide to exorcise her mansion of ghosts. Justin Simien directs. Releases July 28.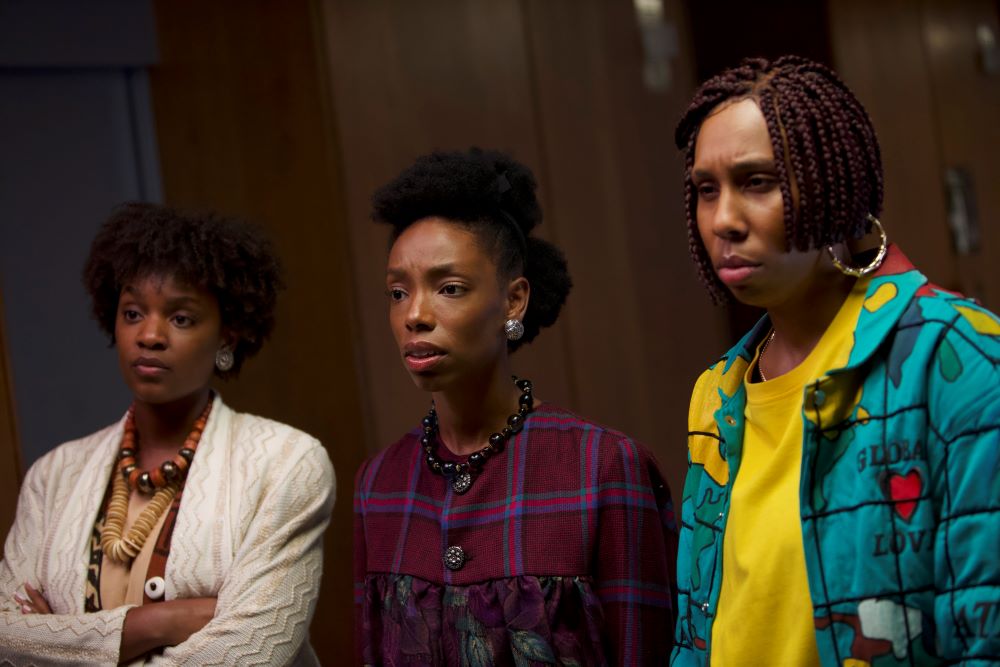 You've heard people say: My hair has a mind of its own today. Well, that's literally the case in writer-director Simien's 2020 Festival entry. Anna (Elle Lorraine) sacrifices her natural look for an elaborate weave in order to please her new boss (Vanessa Williams) and advance her on-air career on a music video television show. "Turns out, her flowing new hair is the key to success — but it arrived with a mind of its own, and it bites back!," according to the Festival Program Guide, which also labels the film "a brilliant satirical psychological thriller." Check out viewing options here. Simien also wrote and directed Dear White People, a 2014 Festival film about four Black students at a fictional Ivy League school, which won the filmmaker a Special Jury Prize for Breakthrough Talent.
BEFORE YOU SEE THE MEG 2: THE TRENCH…
Turns out, the giant underwater predator we met in 2018's The Meg, isn't the only ginormous, mean-spirited ocean dweller. The sequel brings back Jason Statham's deep-diving hero. Directed by British filmmaker Ben Wheatley. Releases August 4. 
A scientist and a park employee set off on a routine trip to a research facility deep in the Arboreal Forest while a deadly virus swirls in the outside world. But the trip turns out to not be so routine: "A path out of the forest and into safety quickly fades as the line between myth and science blurs," according to the Festival Program Guide. "Writer-director Ben Wheatley (Sightseers, 2013 Sundance Film Festival) delivers a visually rich and disorienting viewing experience that defies easy categorization." The horror thriller played the 2021 Festival. Check viewing options here. 
BEFORE YOU SEE LAST VOYAGE OF THE DEMETER…
The Russian schooner Demeter is privately chartered to carry 24 unmarked wooden crates from Romania to London. When it arrives, the crew has disappeared. The film, directed by André Øvredal, comes from one chapter in Bram Stoker's Dracula. Releases August 11.
Hoping to resolve recent bear poachings, three student filmmakers follow a mysterious man into a Norwegian forest. They find something way more frightening than poachers in this Øvredal-directed story. "An incredibly fresh and original entry into the found footage genre, Trollhunter is a raucous thrill ride with eye-popping visual effects that will have you convinced that giant trolls really do exist," Adam Montgomery writes in the 2011 Festival Program Guide. Check viewing options here.
BEFORE YOU SEE BLUE BEETLE…
The world welcomes a new superhero as Jaime Reyes comes into contact with an alien beetle that endows him with the superpower of… armor. They call him Blue Beetle. Directed by Angel Manuel Soto. Releases August 18.
At age 14, Mouse (Jahi Di'Allo Winston) aches to join the Midnight Clique, a group of daredevil dirt bikers in Baltimore. His late brother, Stro, rode for them. But being a member of the Clique might involve more than doing tricks on a motorcycle. "[Angel Manuel] Soto directs an astonishingly talented cast to create a narrative bursting with pitch-perfect performances and intoxicating emotion," writes Shari Frilot in the Festival Program Guide. The jury for the 2020 Festival awarded Soto's film a Special Jury Prize for Ensemble Cast. Based on the documentary 12 O'Clock Boys. Check viewing options here. Soto also directed the 2018 Festival virtual reality short Dinner Party.
BEFORE YOU SEE WHITE BIRD…
Bryce Gheisar reprises his role as the bully Julian from 2017's Wonder in this uplifting film from director Marc Forster. Julian's grandmother (Helen Mirren) tells Julian the story of her experiences as a young Jewish girl growing up in Nazi-occupied France. Based on a graphic novel by R.J. Palacio. Releases August 25.
… WATCH EVERYTHING PUT TOGETHER
When a young couple (Radha Mitchell and Louis Ferreira) face a devastating loss, their friends feel so uncertain about how to respond that they desert them. "A searing parable of human frailty and isolation, [director and co-writer Marc Forster's] film probes the impact of an unexpected tragedy on a community homogenized in mini-vanned, manicured affluence," writes Rebecca Yeldham in the 2000 Festival Program Guide. Check viewing options here.