How do I view hidden (Private mode) content on my Samsung Galaxy device?
PLEASE NOTE: Private Mode was a function on older devices and operating systems. For devices running on Android Nougat and above, you can keep apps, files and images private by using the Secure Folder. Find more information on Secure Folders here.

Private Mode allows you to keep certain files, images and content private.  You will need to set up Private Mode first and set a password. Click here to view steps showing you how to set up Private Mode.  To view images or content you have saved in Private Mode:
1
Switch on Private Mode.
You can do this either by:
~ pulling down the notifications menu and then tapping the Private Mode icon, or
~by going to Settings > Private Mode and turning the slider to on.
2
Enter your Private Mode PIN, pattern or password
3
While Private Mode is active, you will see the Private Mode icon at the top of your screen
4
Private files and images will now be available. For example, there will now be separate Private categories and folders in your Gallery and My Files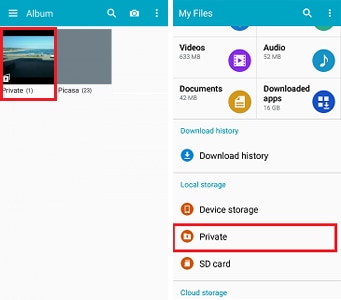 If you're experiencing unusual behaviour on Samsung mobiles, tablets or wearables, you can send us an error report or ask us a question in the Samsung Members app.
This allows us to a closer look at what is happening. The data is anonymised and only held for the duration of the investigation. Find out more about sending an error report through the Samsung Members app.