Wedding Photo Hints Kate Middleton's Mom Treats Her Differently Than Brother James
Kate Middleton's brother, James Middleton, paid tribute to their mother, Carole Middleton, with a photo that had a body language expert noticing differences in Carole's treatment of her children. Ahead, an analysis of James and Carole as seen in a wedding photo to mark Mother's Day in the U.K. Plus, how Kate and her mom are "body language twins." 
Kate Middleton's brother James celebrated mother Carole with a 'relaxed' Mother's Day photo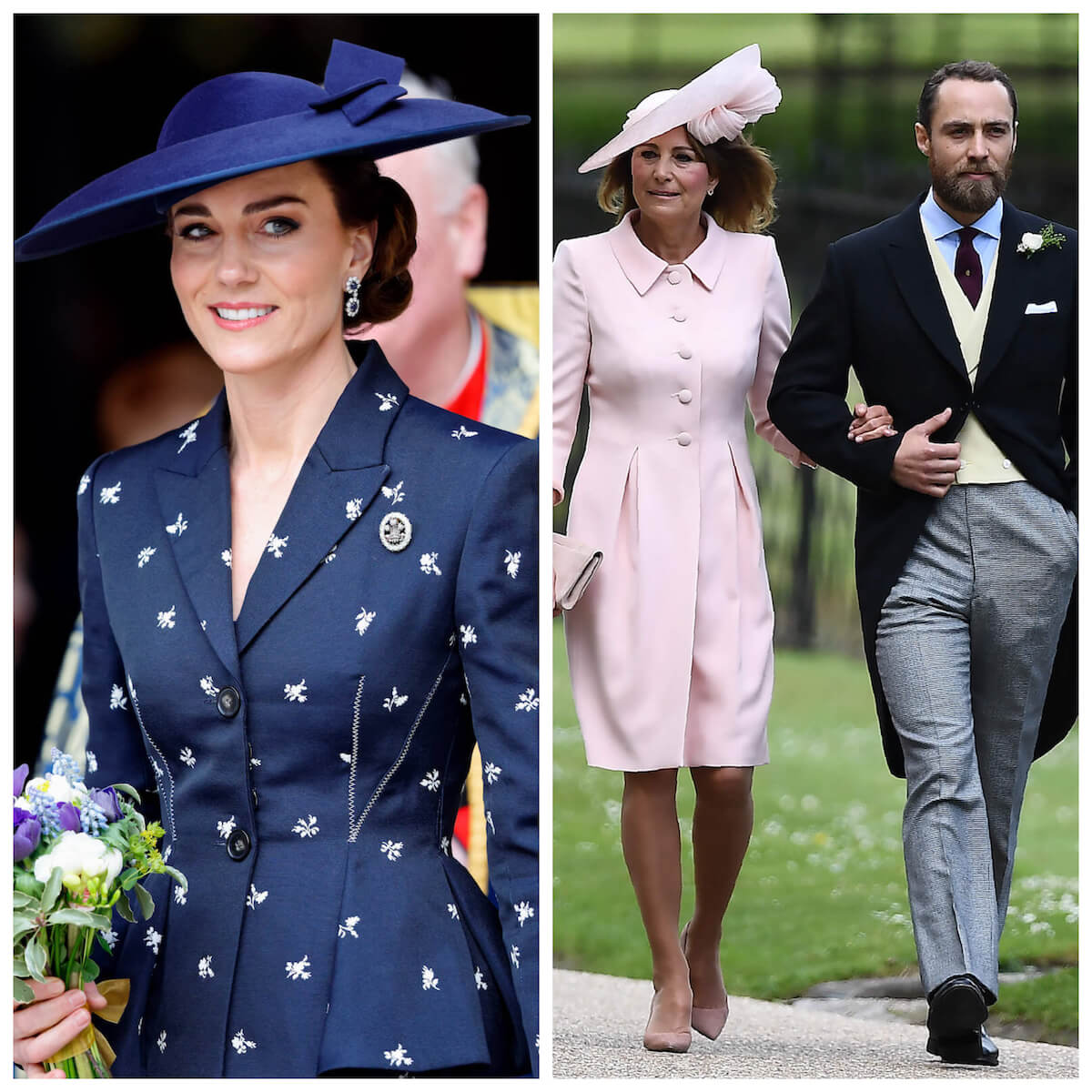 Kate's brother, James, marked Mother's Day in the U.K. by honoring Carole with a special Instagram post. "You make my world go around," James captioned the March 19 post alongside a photo of him and Carole. "Happy Mother's Day to all the mothers out there and especially to this one." 
Examining the image, body language expert Judi James called the mother and son's "pose" simply "stunning," (via Express). It's "totally relaxed and tactile as James's choice to celebrate Mother's Day," she said. There's a display of "open affection and pride" in an 'Isn't my mum amazing?' on James' part.
Meanwhile, the photo's origin proved meaningful too. James "clearly wanted to show this bond while celebrating his marriage," the expert said of the snapshot from the 35-year-old's 2021 wedding. Not only that, it's also "a fun pose" with James' "open-mouthed smile" and Carole's "slightly more tender and reflective" grin. 
"Their head closeness shows high levels of trust and affection," the body language expert added.
Carole Middleton has a 'respectful look' during appearances with Kate Middleton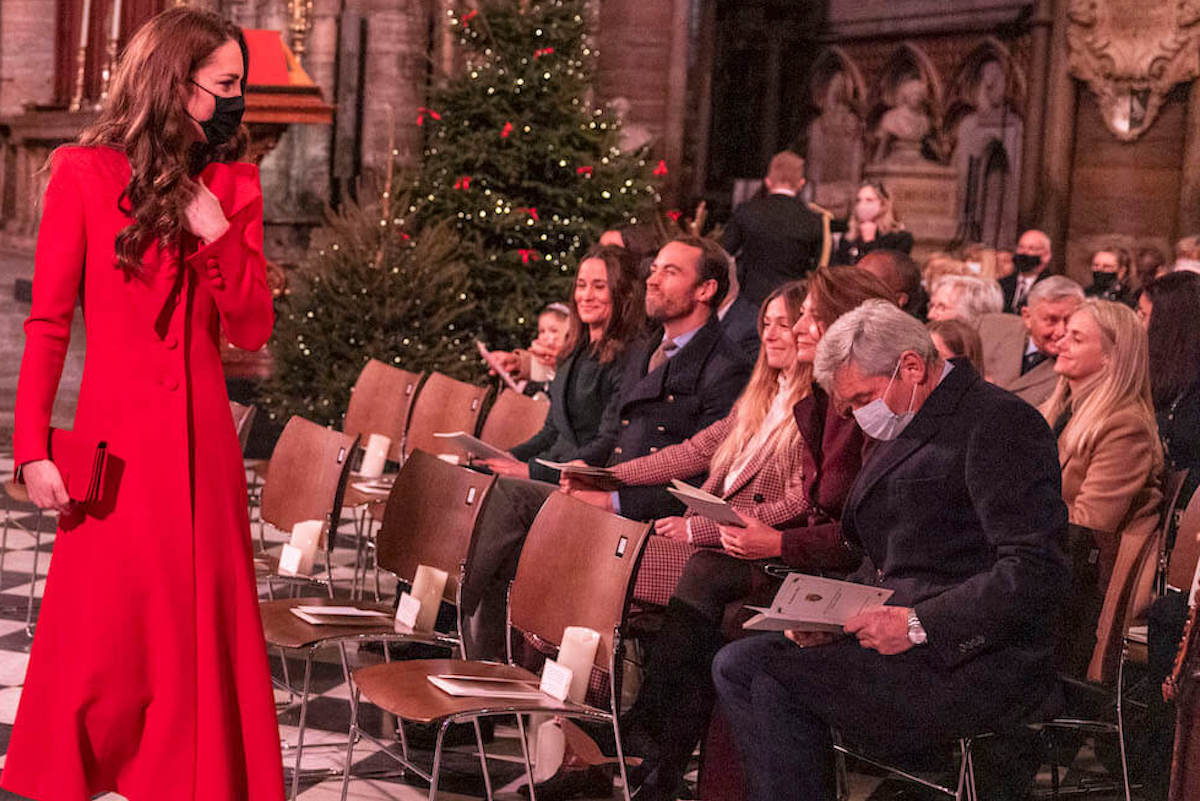 So how does the photo compare to Kate and Carole? The expert said "tactile" public displays of affection, or PDA, aren't typical for Kate, her mom, or her sister, Pippa Middleton, 39.
"We don't see a lot of tactile PDAs from the Middleton women," James said, noting Carole "confines hers to some subtle, nurturing gestures for Pippa."
With Kate, the expert said Carole adopts a "much more respectful look" when they're in public together. The 68-year-old tends to "stand back with a look of pride but with her hands clasped in front of her torso."
Kate Middleton and her mom often look like 'body language twins'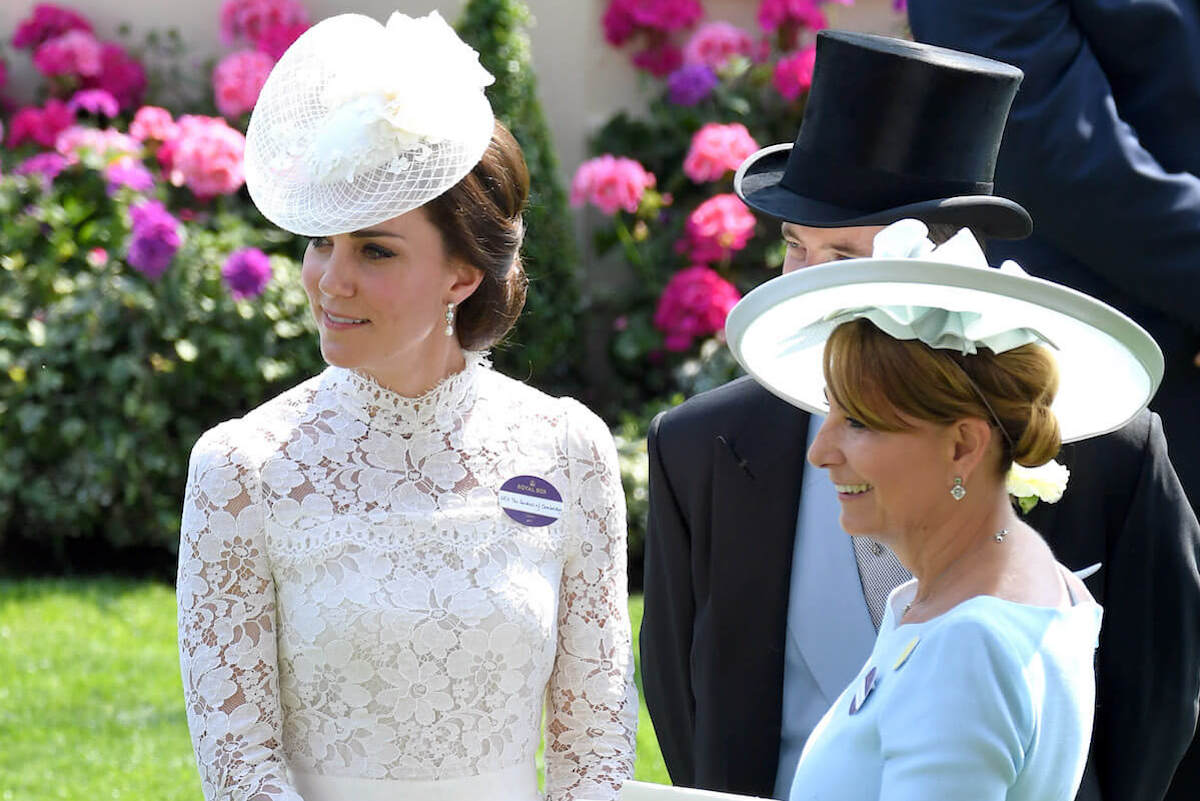 While Carole's body language may point to "respectful" when she steps out with Kate, the pair's movements still suggest closeness. To the point where James described them as "body language twins."
"Carole and Kate look like body language twins in many of their most recent poses together," she said (via Express). "So much so that it's hard to see who is mimicking who." 
"It's fascinating and rather sweet to see her even more in tune with her mother Carole when it comes to mirroring and mimicry signals" compared to Kate's "double act" with Prince William, James continued. 
Kate and Carole can be "seen greeting people together in a 'two for the price of one' pose" while "glances of maternal support have lessened "since Kate's confidence has grown."
Additionally, Kate and her mother "always gravitate to a state of physical closeness too." They stand "with their arms close or touching." Meanwhile, their facial expressions suggest "delight in each other's company" while their eye contact hints at "shared fun and jokes."
Overall, Kate and Carole's body language indicated the 41-year-old's "possibly at her most relaxed" as a "daughter" rather than a "wife and future queen."
"The suggestion from their body language is that Carole's home and family life is very much the 'safe space' for Kate," James concluded. There's an "instant return to a more relaxed 'real life' should she need it when her future queen role gets a bit too much."

Showbiz Cheat Sheet acknowledges conditions and cultures can impact body language and is sensitive to all backgrounds.