Samsung's marvelous Galaxy Z Fold 3 can now be yours for as little as $300 with no trade-in
2
We may earn a commission if you make a purchase from the links on this page.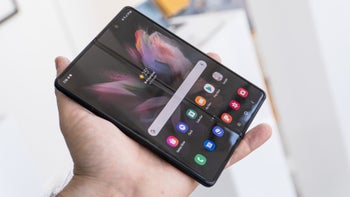 Can you believe it was only three or four years ago that a working foldable with a resilient design and an acceptable degree of utility seemed like a distant dream, and now you can buy the very well-reviewed
Galaxy Z Fold 3 5G
starting at a measly $299.99?
While the decidedly versatile, undeniably powerful, and almost surprisingly refined handset released back in 2021 is technically still priced at an obscene $1,799.99, saving (many) hundreds of bucks has obviously become easier and easier over the last year or so.
By far the greatest deal (with no strings attached)
came from Amazon a couple of months ago
, but if you are willing to jump through one or two hoops, Best Buy is now outdoing its arch-rival with a simply unbeatable new promotion.
You might be seeing that word thrown around a lot these days in relation to many different deals run by different retailers on different products, but in this particular case, we really don't see how anyone could ever beat a $299.99 price for a Snapdragon 888-powered
Galaxy Z Fold 3
with a foldable 7.6-inch Dynamic AMOLED 2X display and 6.2-inch 120Hz cover screen... sans trade-in.
The special requirements you need to meet to qualify for that incredible $1,500 (!!!) discount are nowhere near as inconvenient as you probably expect, with the killer new deal exclusively targeting AT&T customers looking to open a new line of wireless service or a new account altogether.
If that feels a little restrictive, paying an extra $100 will give you the freedom to upgrade your existing device on AT&T to
Samsung
's insanely affordable Galaxy Z Fold 3 or even activate the phone on Verizon with a new line, new account, or an upgrade.
Unfortunately (and completely unsurprisingly), upfront activation on one of those two carriers is a must here, but if it makes you feel any better, you can choose between coughing up that heavily reduced price all at once or splitting it into 36 monthly installments. There are no other strings attached, at least as far as we can tell, and although the
Z Fold 4 is clearly better
, the Galaxy Z Fold 3 is still undoubtedly one of the
best foldable phones
money can buy in 2023.