Queen Margrethe's Life in Photos
The Danish queen celebrated her golden jubilee this year.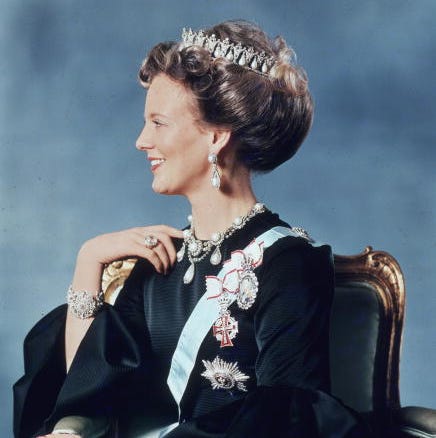 Hulton ArchiveGetty Images
In 1972, Queen Margrethe II of Denmark succeeded her father, King Frederick IX, becoming the first female Danish monarch in centuries. (The last was Margrethe I, who ruled the Scandinavian kingdoms from 1375 to 1412.) She only succeeded her father because of a relatively recent constitutional amendment that allowed women to inherit the throne.
Margrethe was born at Frederik VIII's Palace on April 16, 1940—just one week after Nazi Germany invaded Denmark. Her parents, King Frederick IX and Queen Ingrid, were both members of royal families: Frederick was the eldest son of Denmark's King Christian X and Queen Alexandrine (who were also monarchs of Iceland until 1944), and Ingrid was the only daughter of King Gustaf VI Adolf of Sweden and his first wife, Princess Margaret.
"We represent a very long story, and that's the story of our own country," she told the BBC during the celebration of her 40th year on the throne. "It is not a life sentence, but a life of service." As Margrethe celebrates her Golden Jubilee—50 years on the Danish throne—take a look back through her royal life, in photos.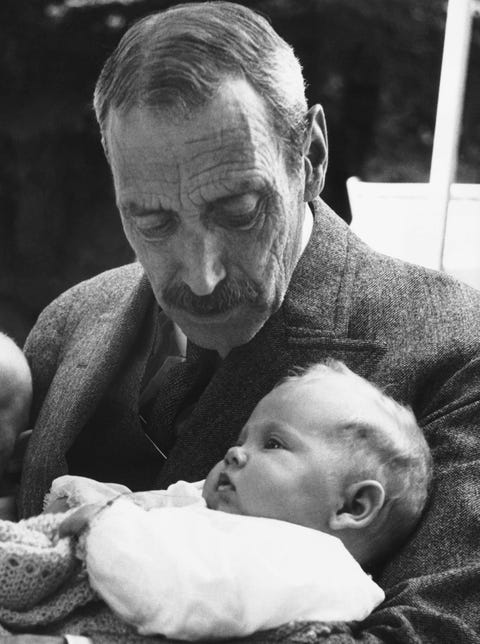 Keystone-FranceGetty Images
King Christian X holding Princess Margrethe in an undated photo from 1940.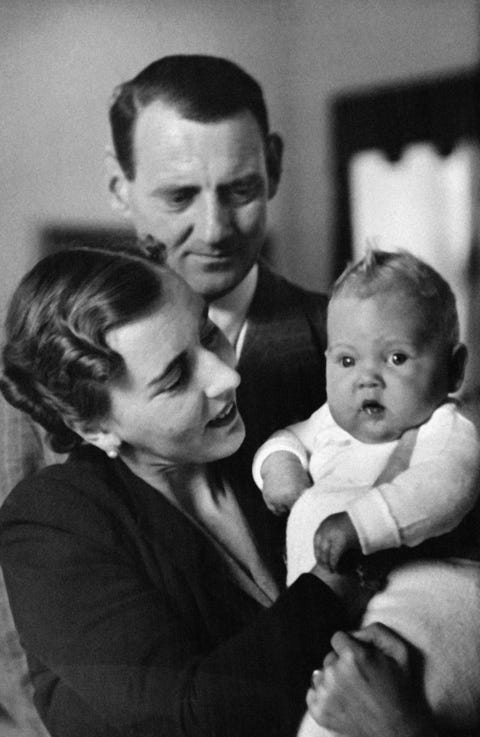 Keystone-FranceGetty Images
A baby Princess Margrethe with her parents—then the Crown Prince Frederik and Crown Princess Ingrid. Margrethe's full name is Margrethe Alexandrine Þórhildur Ingrid, named for her maternal grandmother Crown Princess Margaret of Sweden, paternal grandmother Queen Alexandrine, her mother Ingrid, and Þórhildur is a nod towards King Christian being the King of Iceland.
Read more: 40+ photos of the Danish Royal Family through the years.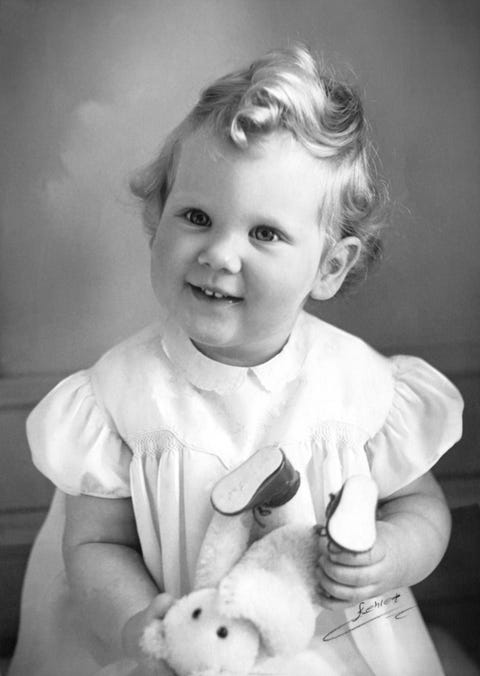 Keystone-FranceGetty Images
In this portrait of Princess Margrethe, she holds a teddy bear who wears shoes.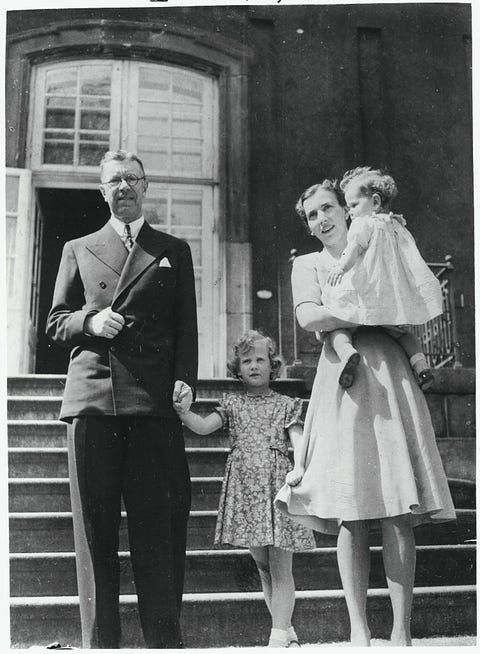 BettmannGetty Images
During World War II, Nazi Germany occupied Denmark. In 1945, following the liberation of Copenhagen, Prince Gustaf Adolf of Sweden (left) reunited with his daughter, Princess Ingrid, and met his granddaughters, Margrethe and Benedikte.

In 2020, Queen Margrethe shared her memories of liberation: "I woke up when I heard people in the streets, not outside my window, but not far from it... I was not chased back to bed. They gave me a big hug."
"Then my father came and said, 'it is peace, the war is over,'" she recounts. "I did not really understand what that meant, but I understood that all the people were very happy. I have always remembered that evening in detail. That evening must be one of my earliest memories that I can remember so well."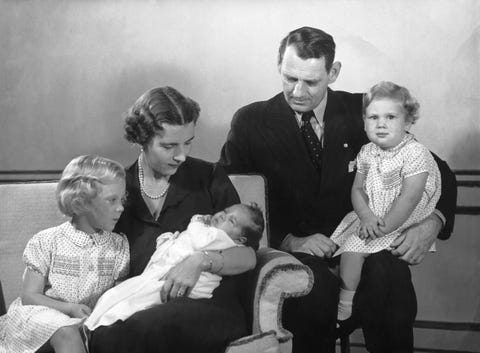 Keystone-FranceGetty Images
The Danish royals pose with newborn Princess Anne-Marie (in Ingrid's arms).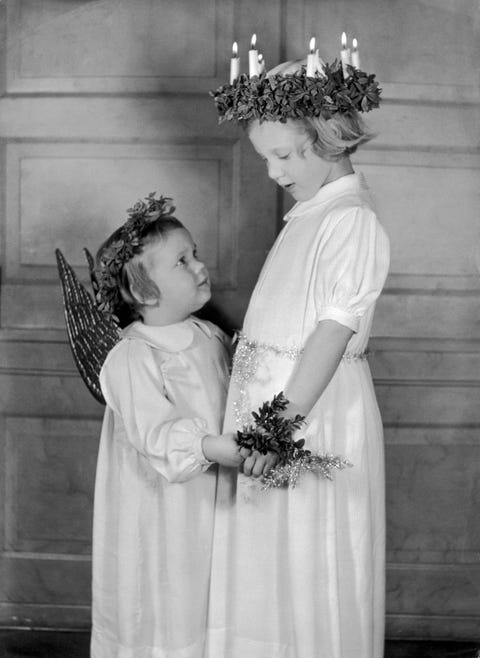 Keystone-FranceGetty Images
During a Christmas celebration, Princess Margrethe (right) wears a wreath of candles—a Swedish tradition—and her younger sister Princess Benedikte (left) is dressed as an angel.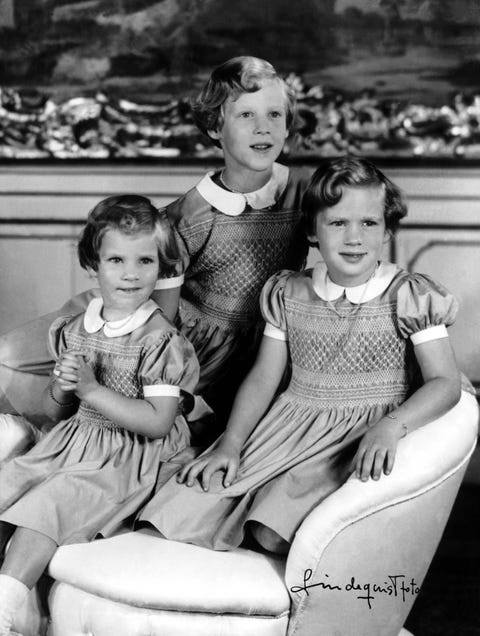 Keystone-FranceGetty Images
The three Danish princesses wore matching dresses in a portrait taken in Copenhagen. From left to right: Anne-Marie, age 4, Margrethe, age 10, and Benedikte, age 6.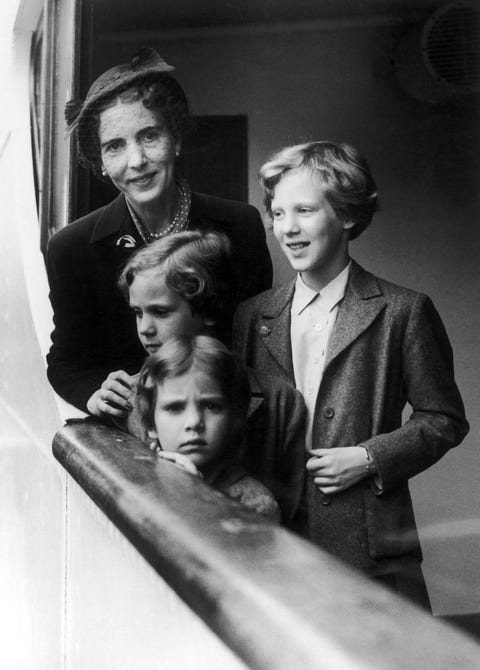 Keystone-FranceGetty Images
In 1952, the Danish royals traveled to England. Queen Ingrid smiles at the camera, with her arms resting on Benedikte's shoulders. Margrethe, far right, is aged 12.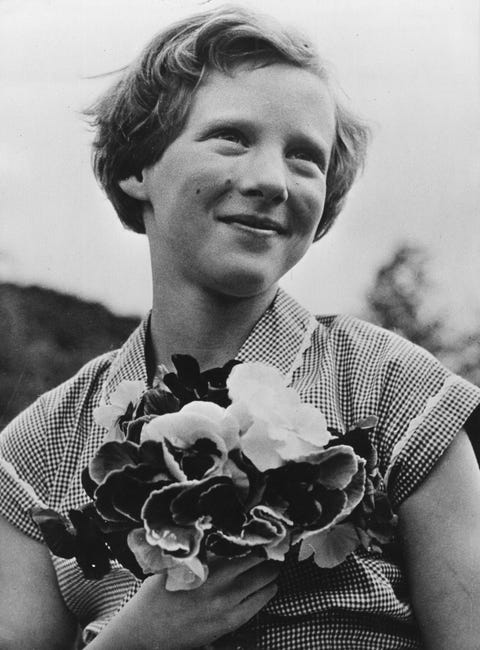 ullstein bild Dtl.Getty Images
Margrethe's nickname is Daisy, a common diminutive of the English version of her name, Margaret.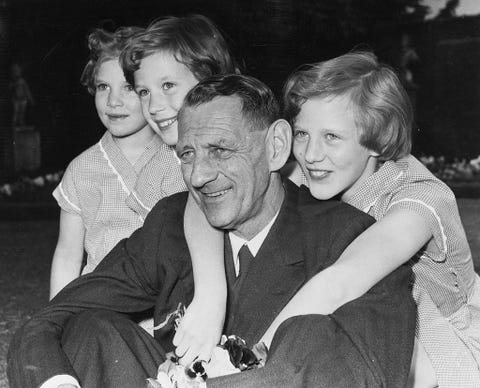 BettmannGetty Images
The original caption for this photo reads "Denmark's rugged King Frederik has some fun with his three daughters while spending some leisure time at the family's summer residence in Fredensborg." This photo was taken shortly after a new constitution declared Princess Margrethe heir to the Danish throne.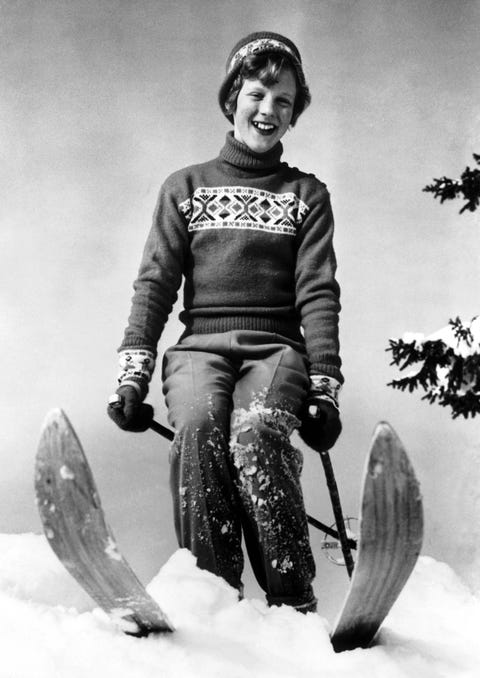 Keystone-FranceGetty Images
Princess Margrethe, nearly 14, on a ski vacation in Norway.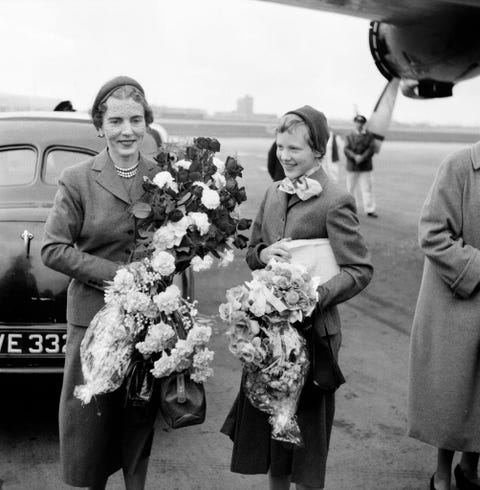 MirrorpixGetty Images
Princess Margrethe accompanied her mother Queen Ingrid on a royal engagement.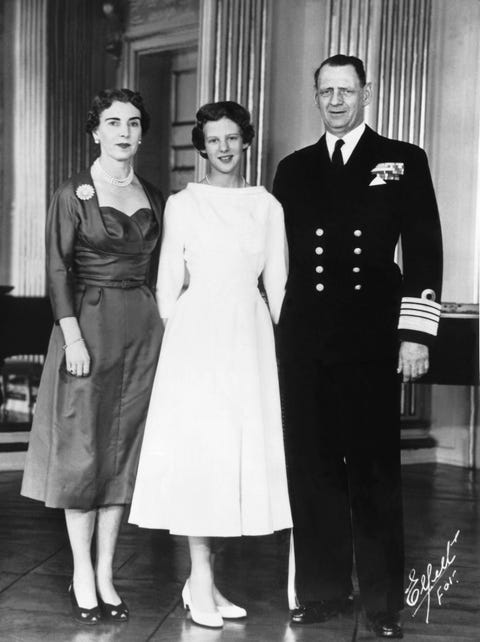 Keystone-FranceGetty Images
In 1955, Princess Margrethe was confirmed to the Church of Fredensborg's Palace. In this portrait, she poses between her parents.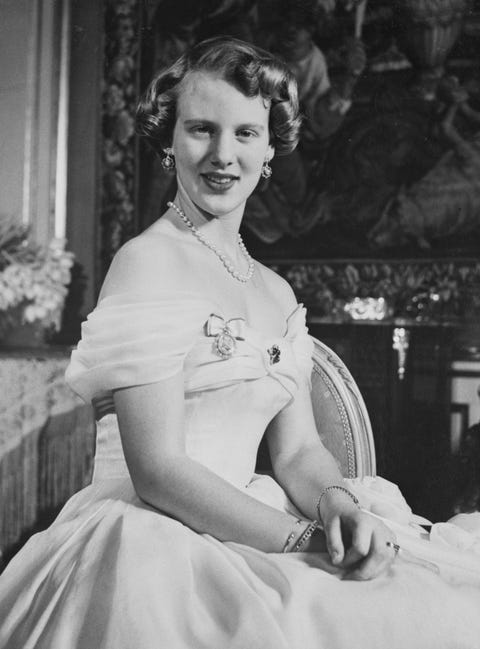 BettmannGetty Images
This photograph—of Margrethe in a glamorous off-the-shoulder gown—marked the princesses's 18th birthday, and her coming of age according to Danish Royal Law.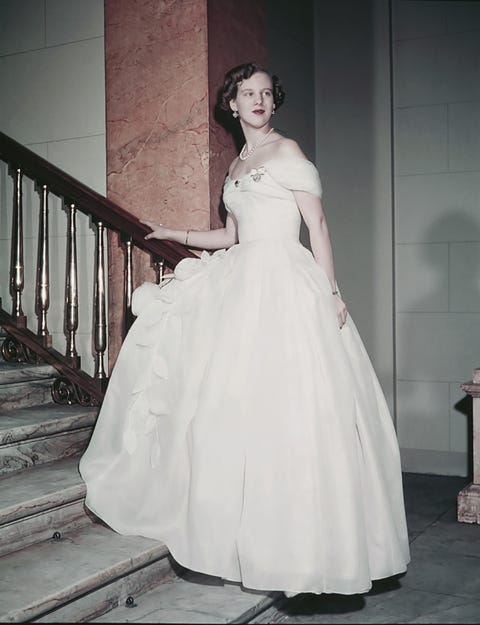 KeystoneGetty Images
Upon turning 18, Margrethe took a seat in King Frederik's cabinet.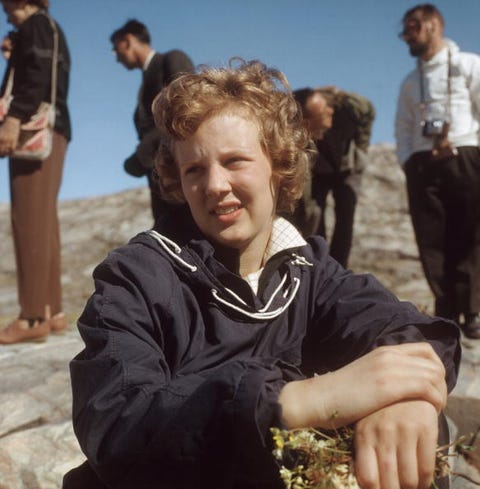 KeystoneGetty Images
She traveled with her parents on a royal visit to Greenland in 1960.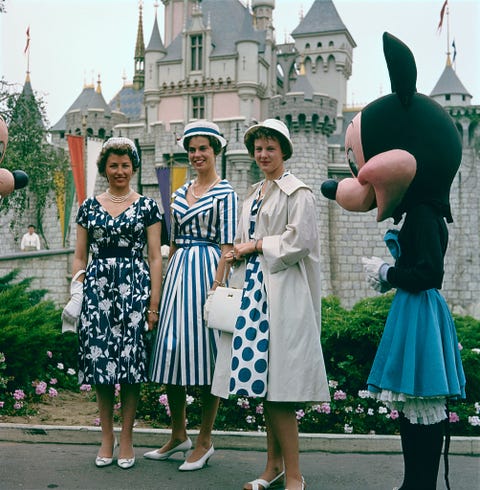 BettmannGetty Images
The same year, she undertook a tour of America with two other princesses: Princess Astrid of Norway and Princess Margaretha of Sweden. (Margrethe is far right.) Here, the three princesses stop at Disneyland in Anaheim, California.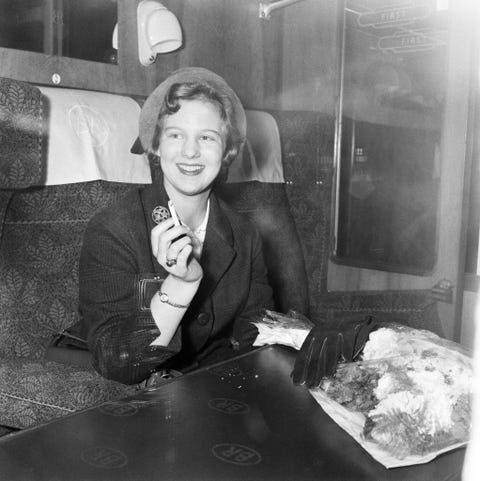 MirrorpixGetty Images
In 1960, Princess Margrethe went to London to study prehistoric archeology at Cambridge. She has a long-lasting passion for archeology, and has participated in excavations over the years.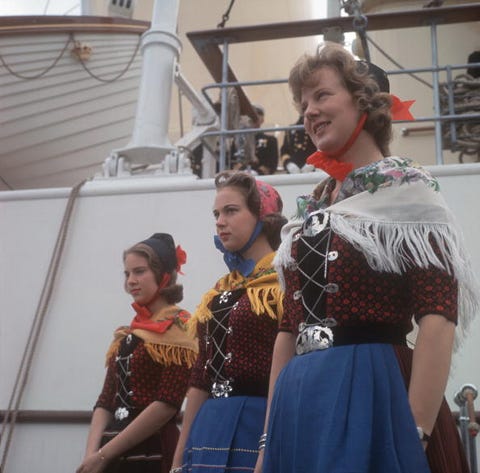 KeystoneGetty Images
Margrethe and her sisters in traditional Danish clothing. A year later, her youngest sister, Princess Anne-Marie would marry King Constantine of Greece and become queen consort of Greece.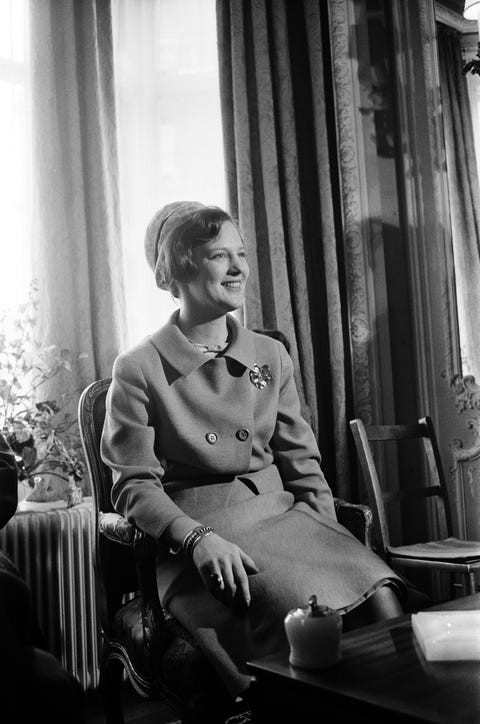 MirrorpixGetty Images
After leaving Cambridge, the princess attended Aarhus University from 1961 to 1962. and the Sorbonne in 1963. In 1965, she studied at the London School of Economics. She's pictured here in London, before starting at LSE.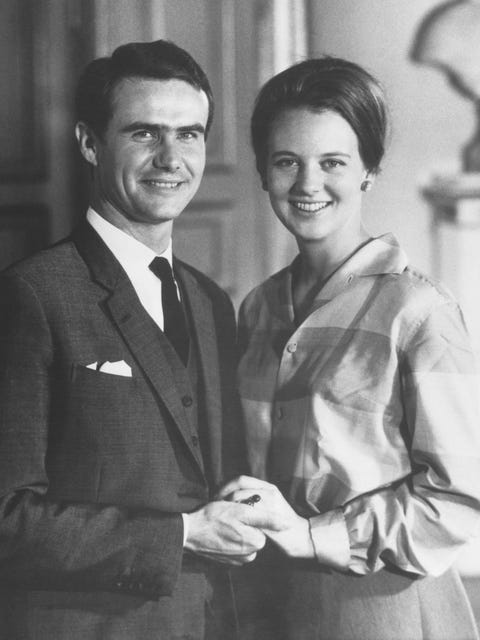 BettmannGetty Images
In 1966, Princess Margrethe announced her engagement to Count Henri de Laborde de Monpezat, a third secretary in the French Embassy in London.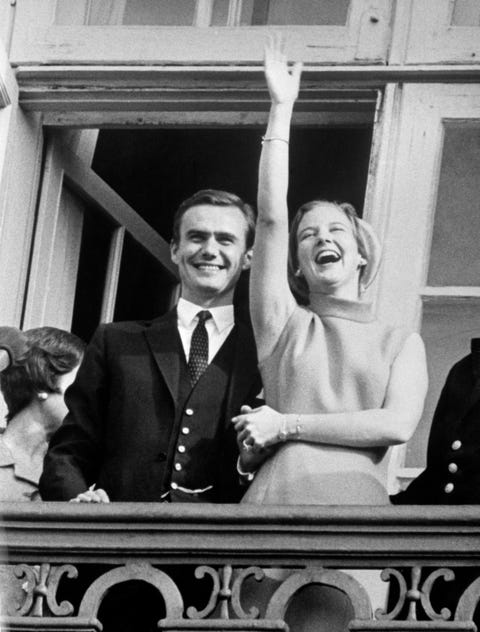 PA ImagesGetty Images
The two waved to crowds after the announcement of their engagement.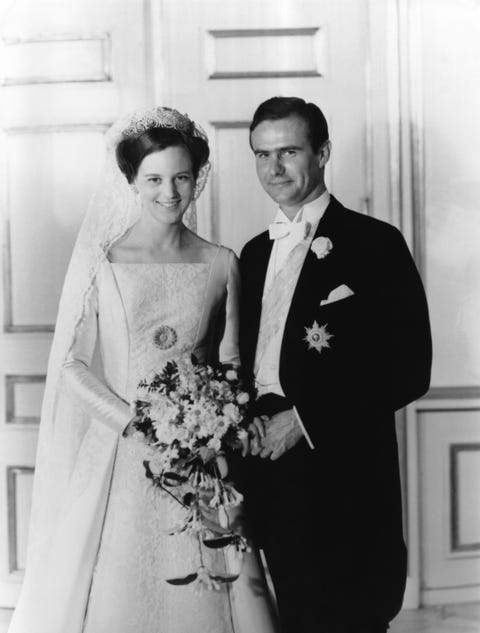 Keystone-FranceGetty Images
A year later, they were married at the Holmen Church in Copenhagen, and Henri became Prince Henrik of Denmark.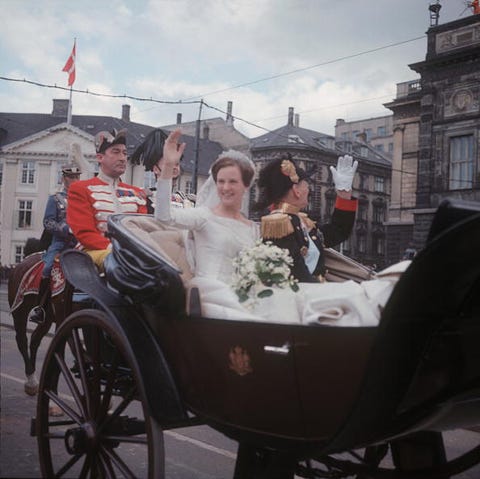 KeystoneGetty Images
On her wedding day, Margrethe rode in a carriage with her father King Frederik IX.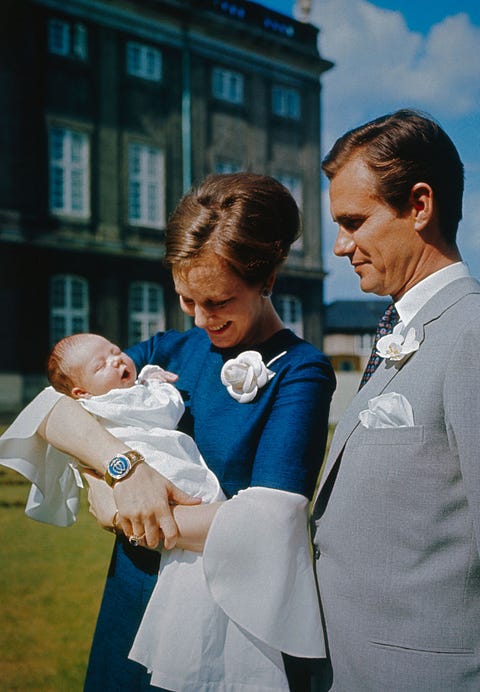 BettmannGetty Images
In 1968, Margrethe and Henrik welcomed their first child. In Danish tradition, kings are named, alternating, Frederik or Christian. Because her father was Frederik, Margrethe took the "Christian" cycle, and named her firstborn son Frederik. When he inherits the throne one day, he will be King Frederik X.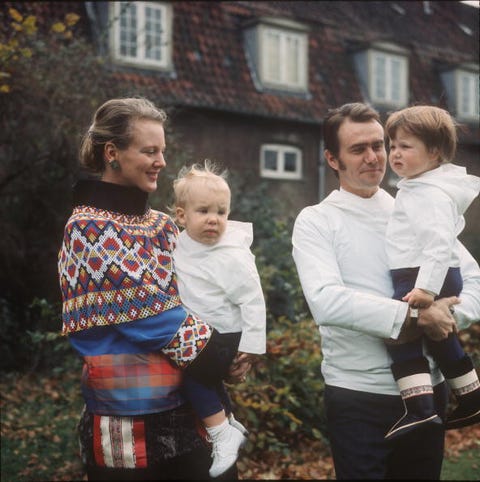 KeystoneGetty Images
Margrethe and Henrik's second son, Joachim, was born in 1969. Here, the young family poses for a family portrait.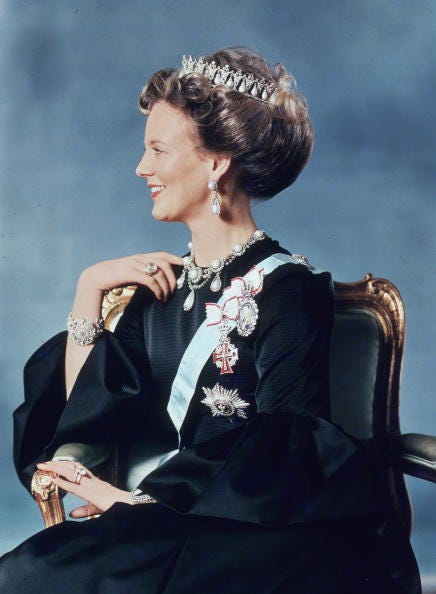 Hulton ArchiveGetty Images
King Frederick IX died in 1972, and Margrethe succeeded at the age of 31. In her first address to Denmark, the-now Queen Margrethe II said, "My beloved father, our King, is dead. The task that my father had carried for nearly 25 years is now resting on my shoulders. I pray to God to give me help and strength to carry the heavy heritage. May the trust that was given to my father also be granted to me."
This photograph was her first official portrait as Queen.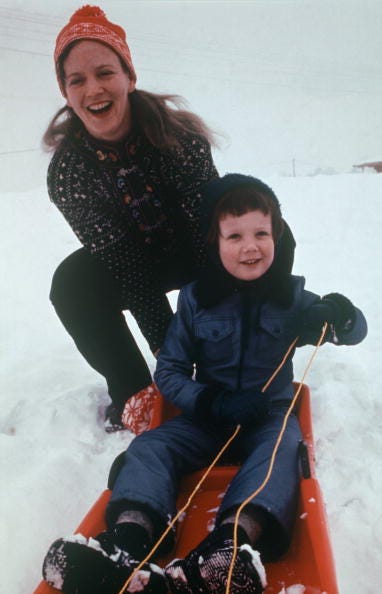 KeystoneGetty Images
Even as Queen, she still was raising her two young sons. Here, she goes sledding with Prince Frederik.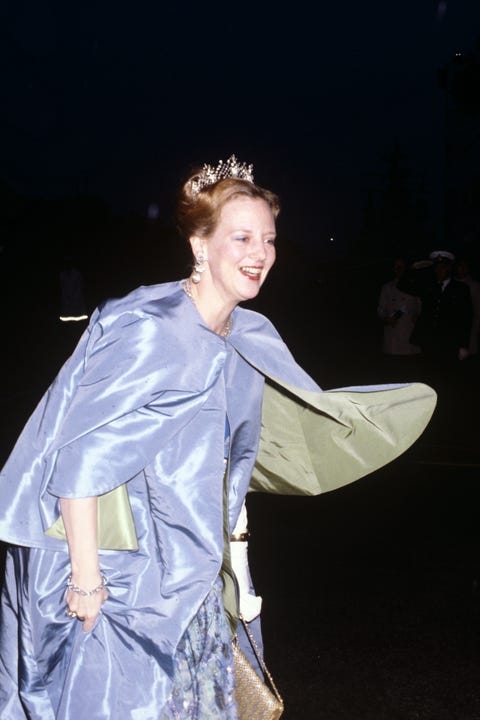 Ron Bell - PA ImagesGetty Images
Margrethe has numerous tiaras she wears; this is the Alexandrine Diamond Drop Tiara, given to her by her grandmother Queen Alexandrine on her 18th birthday.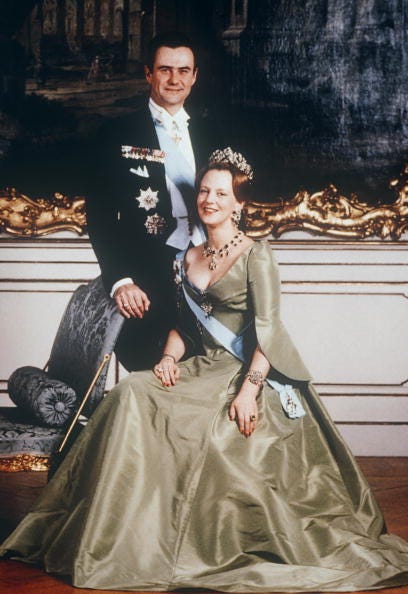 KeystoneGetty Images
A formal portrait of Henrik and Margrethe on her 40th birthday.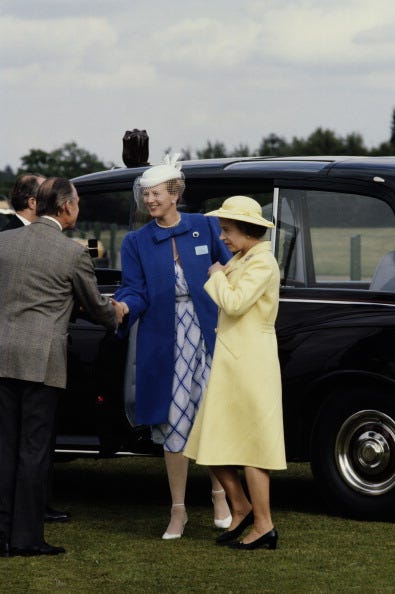 Tim GrahamGetty Images
Queen Margrethe and Queen Elizabeth have much in common—both ascended the throne at young ages, and they even share a distant ancestor. Over the years, the two queens have developed a close friendship; Margrethe calls Elizabeth "Lilibet" and Elizabeth calls Margrethe "Daisy."
"We are definitely affectionate, but I don't want to splash it all over the place," Margrethe shared.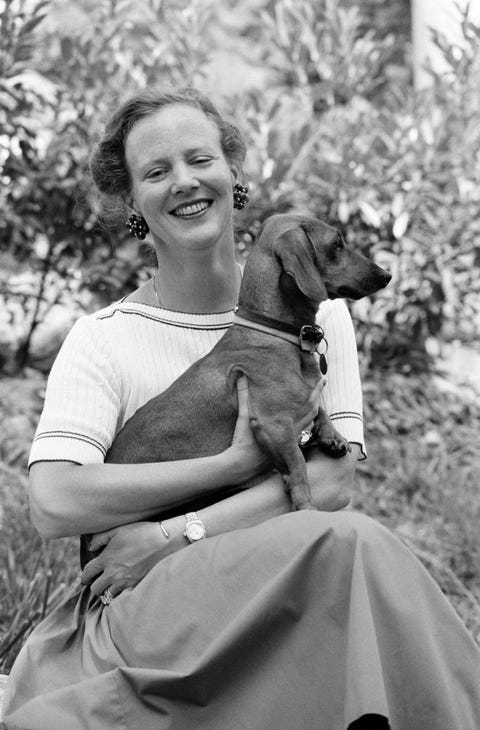 Alain MINGAMGetty Images
Like the British queen, Margrethe is a longtime dog lover—favoring dachshunds over corgis.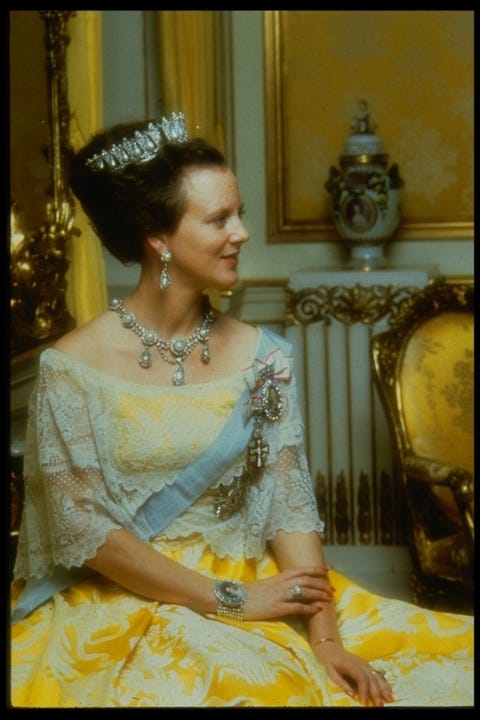 Arnaud De WildenbergGetty Images
A regal portrait of Margrethe on the 10th anniversary of her reign.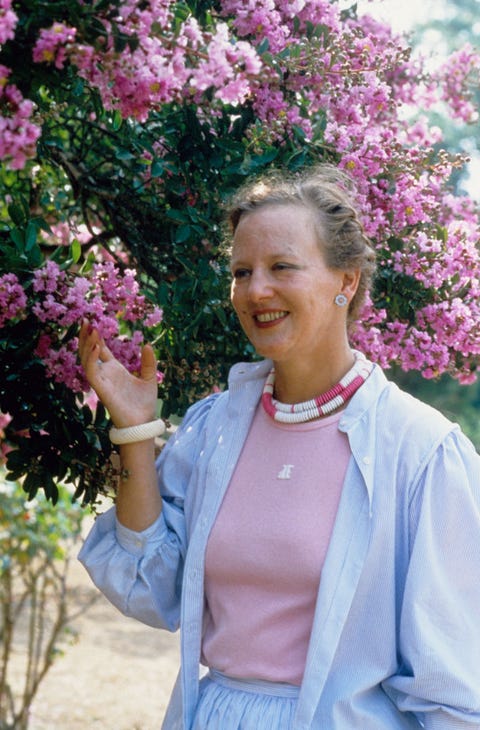 Jean-Claude FRANCOLONGetty Images
Every summer since 1974, Queen Margrethe II and Prince Henrik travel to Cahors, France, where they spend time at Château de Cayx. Henrik's family is from France, and had been residing in nearby Albas, so it was especially meaningful for him to travel to the region.
The photos of Margrethe and Henrik from their summers in France over the years showed the royal couple at their most relaxed.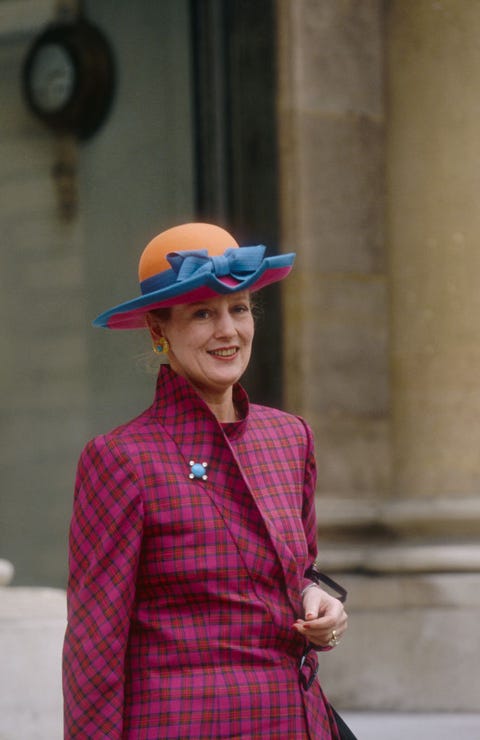 Pascal J Le SegretainGetty Images
Margrethe's fashion is quirky and loud—in the best way. "Royals are often partial to colour, but Queen Margrethe's take on royal style is very bold," Danish designer Julie Brøgger told British Vogue. "Because she's an artist, she has a totally different understanding of colour. She's a tall woman of a different stature than most other queens, so she's able to carry more dramatic shapes. She's a bit sprightlier than her royal peers, perhaps, but she's also queen of a completely different monarchy than England, for instance."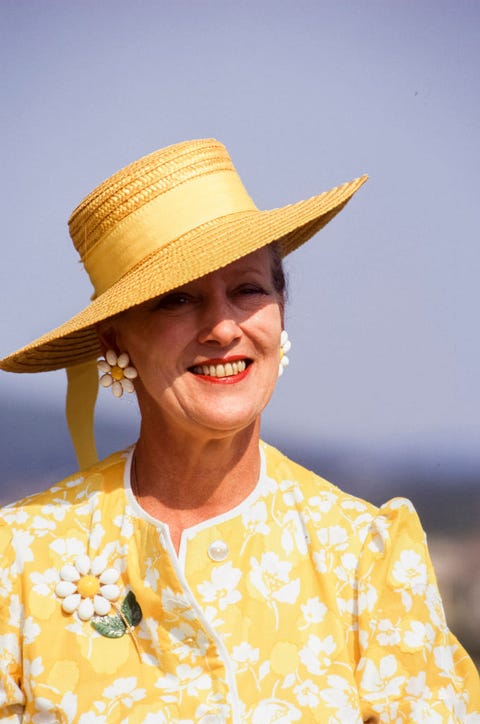 Gilles BOUQUILLONGetty Images
Margrethe takes her "Daisy" nickname literary, and has a large collection of daisy-themed jewelry—including these beloved earrings.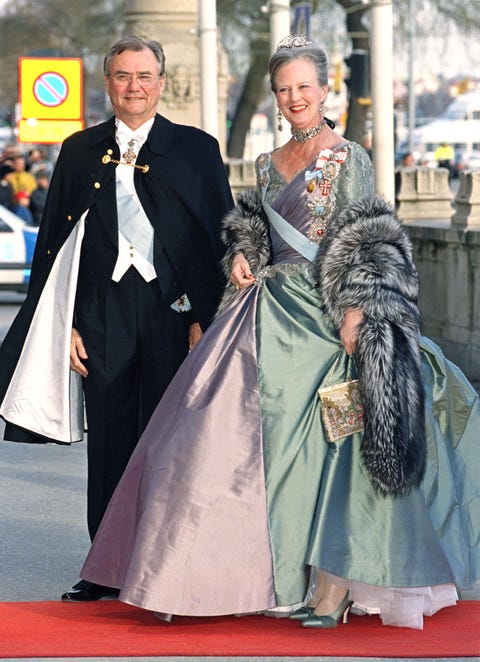 Julian ParkerGetty Images
She shows in a glamorous get-up when necessary.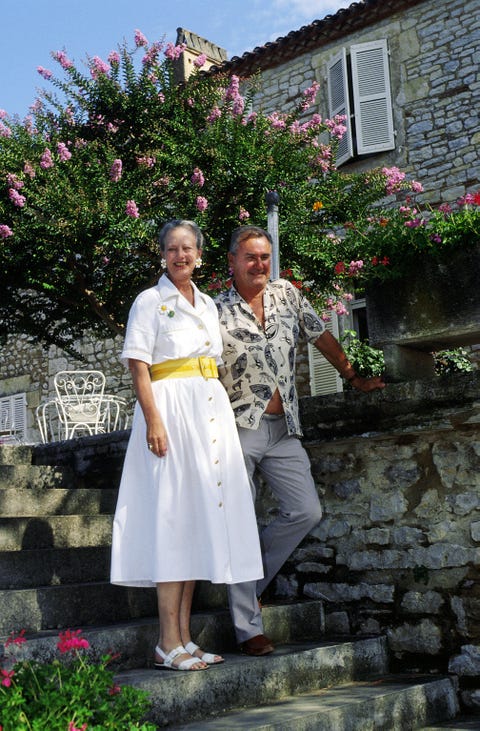 Gilles BOUQUILLONGetty Images
Margrethe (spot the daisy earrings!) and Henrik during their summer vacation in France.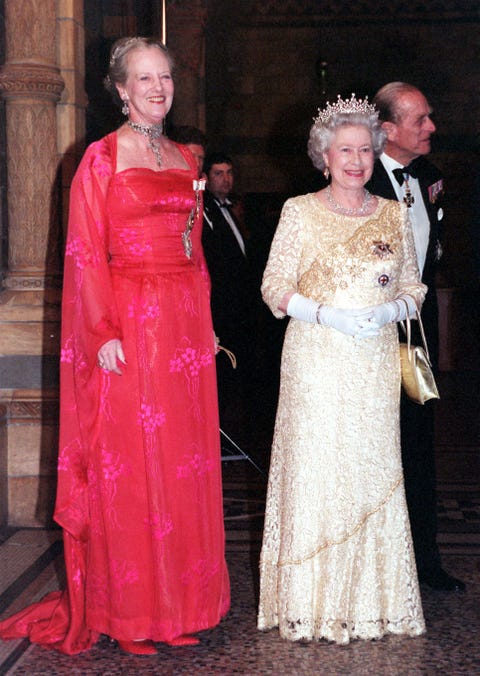 Michael Stephens - PA ImagesGetty Images
Queen Margrethe and Queen Elizabeth posed together during a reception in England. "She has always been somebody I have admired. I also happen to know her very well, or fairly well anyway," Margrethe said in 2012.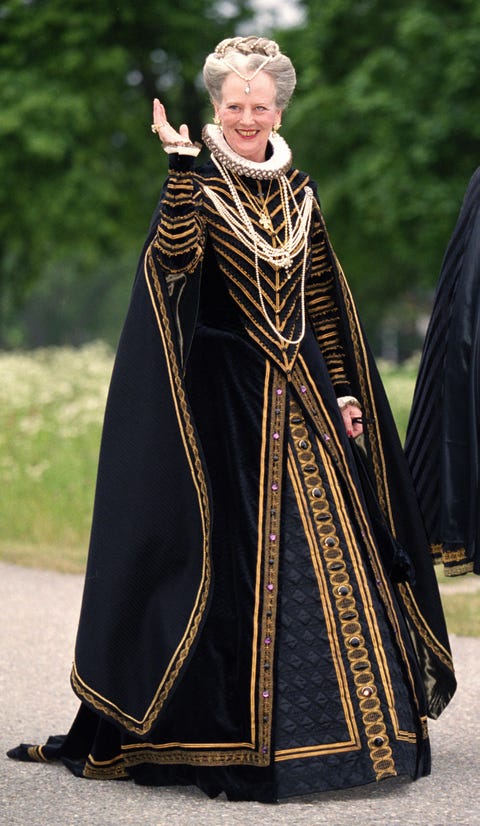 Antony Jones/Julian ParkerGetty Images
At a costume gala in Sweden, Queen Margrethe wore a
Elizabethan era-inspired get up. She is not afraid to go the extra mile with her fashion.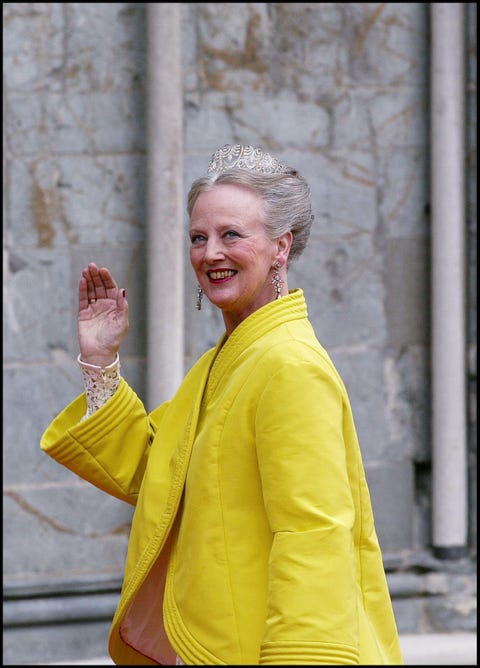 Pool BASSIGNAC/BUUGetty Images
Queen Margrethe pictured in the Baden Palmette Tiara, with heart-shaped designs. She often wears this tiara to royal weddings—like to this Norwegian royal wedding in 2002.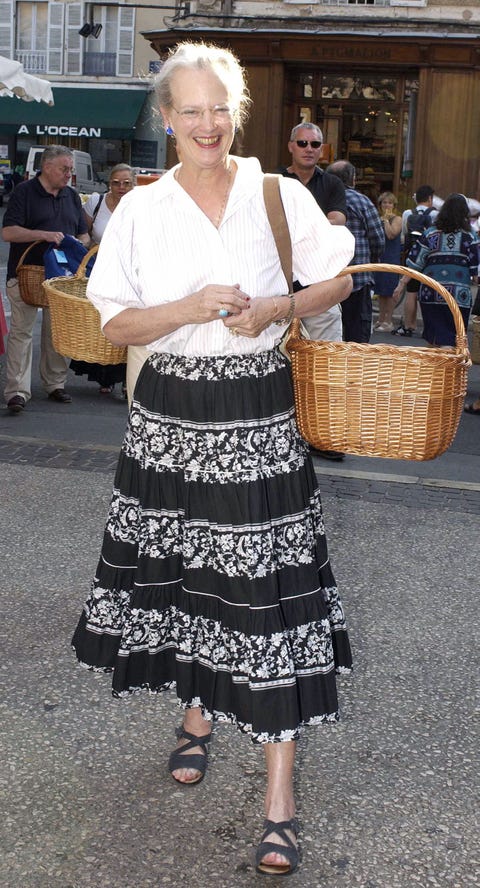 Antony JonesGetty Images
Margrethe embraces vacation mode in Cahors, including going shopping with her own basket.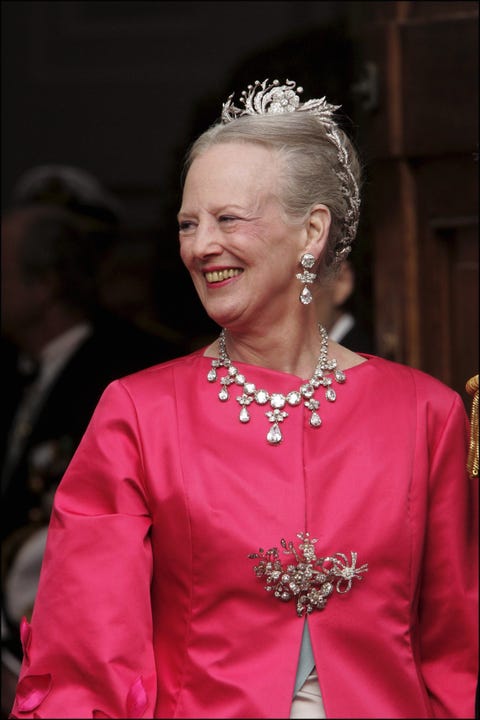 Pool BENAINOUS/TRAVERS/DUCLOSGetty Images
Margrethe opted for a bold pink outfit for the wedding of her son Prince Frederik to Mary Donaldson, the future Princess Mary. According to the Court Jeweller, this avant-garde tiara was made for her in 1976 by Arje Griesgst.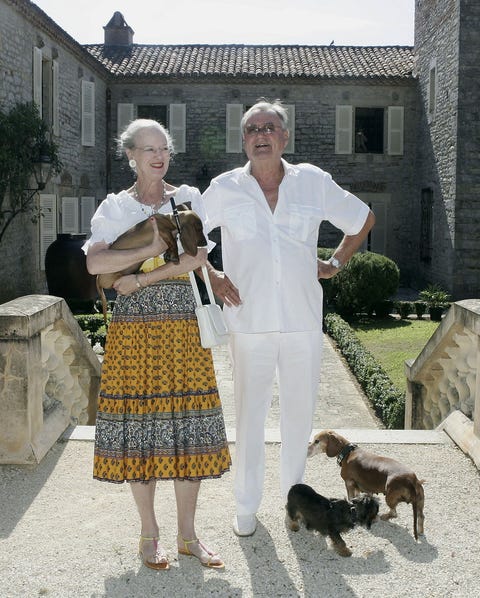 Pascal Le SegretainGetty Images
The Danish royals and their dachshunds pictured on holiday in France. (Notice Margrethe's earrings!)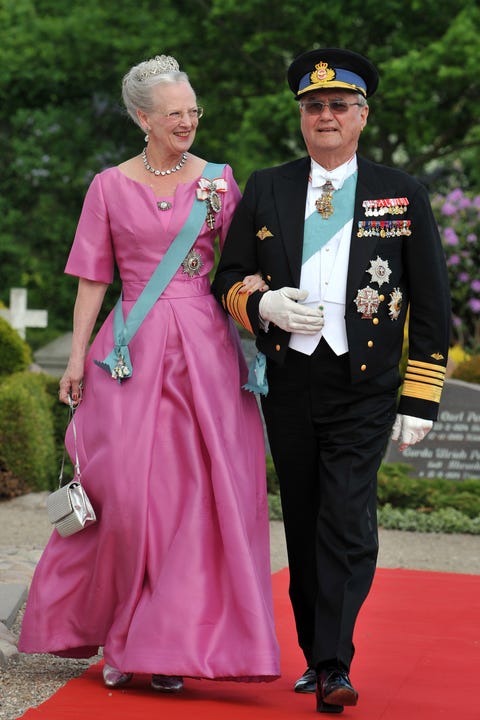 Pascal Le SegretainGetty Images
Margrethe and Henrik attend their son Prince Joachim's second wedding. He was married to Alexandra Manley from 1995 to 2005, and to Marie Cavallier starting in 2008.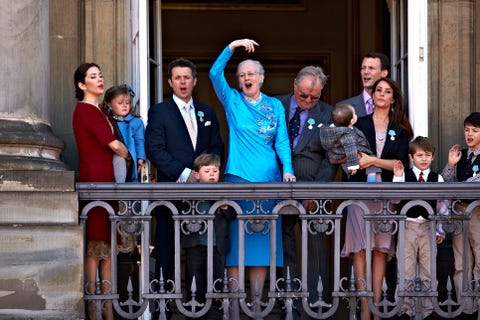 Schiller GraphicsGetty Images
Queen Margrethe leading the crowd in song during her 70th birthday celebrations at Amaienborg Castle in Copenhagen.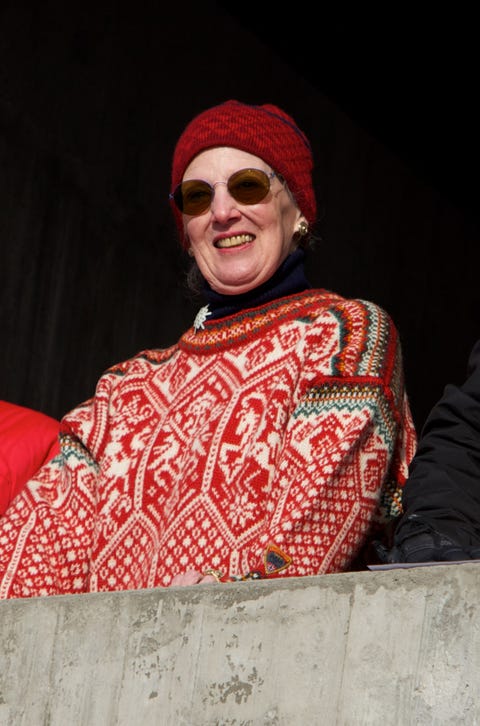 Ragnar SingsaasGetty Images
Margrethe opted for a cozy sweater and matching red hat as she watched nordic ski championships in Oslo, Norway.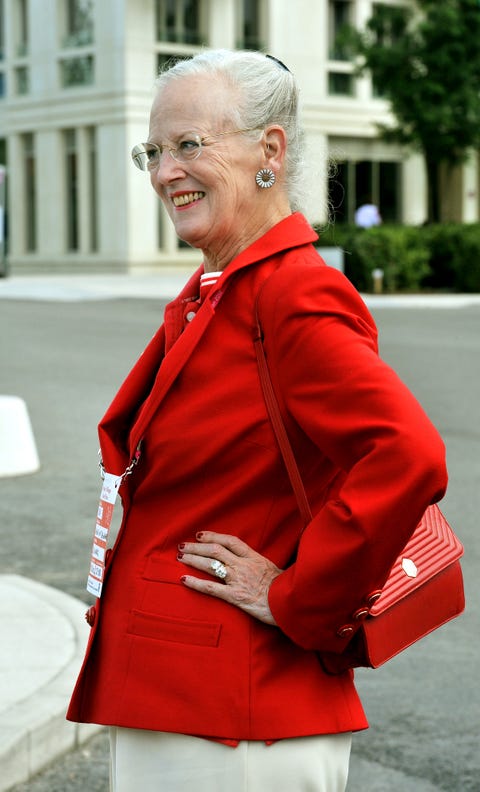 WPA PoolGetty Images
At the London Olympics in 2012, Margrethe wore the red of Denmark's flag—and her signature daisy jewelry.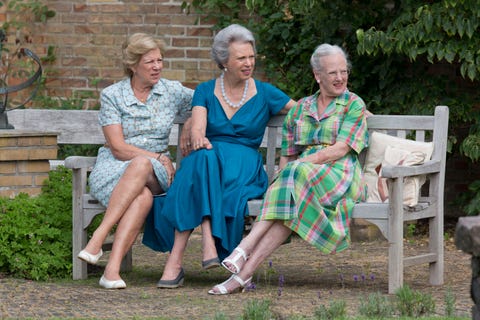 Julian ParkerGetty Images
Queen Margrethe and her sisters during their annual summer trip to
Gråsten Palace.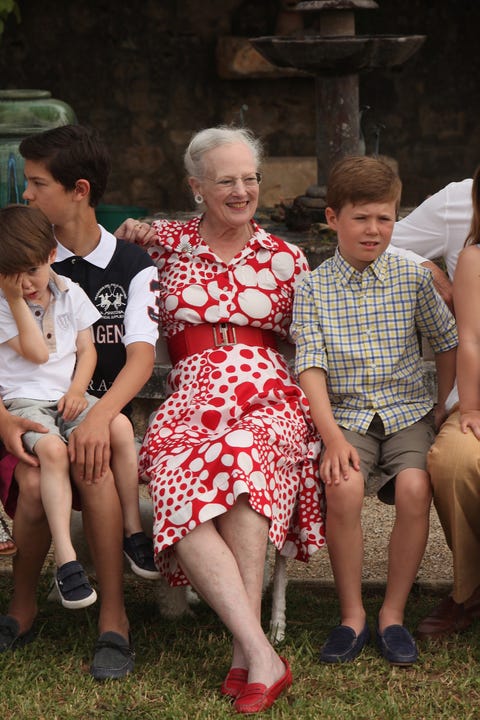 Patrick AventurierGetty Images
Margrethe, again, at Gråsten Palace—pictured here with her grandsons. Margrethe has numerous hobbies, including painting, illustrations under the pseudonym Ingahild Grathmer, and costume design.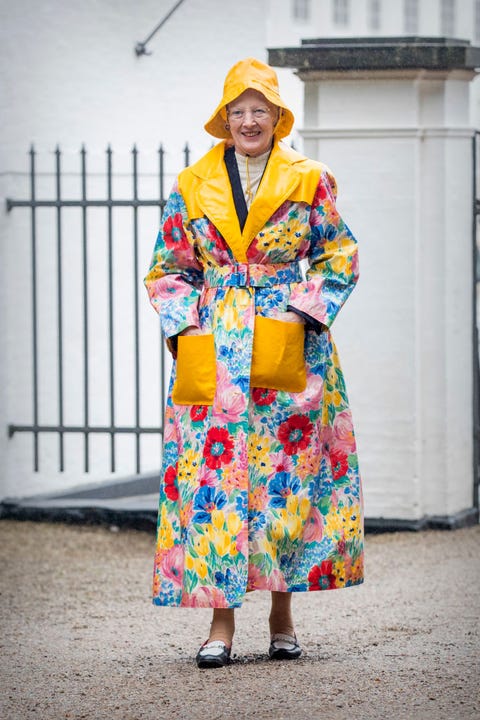 Patrick van KatwijkGetty Images
Margrethe designed this jacket, which she calls her "happy" raincoat.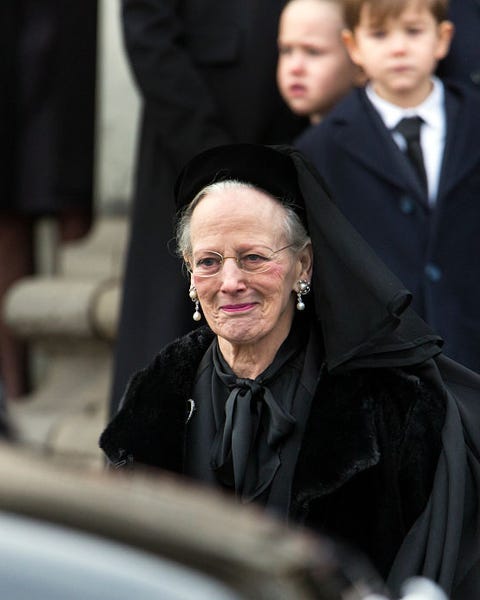 Ole JensenGetty Images
In 2018, her beloved husband Prince Henrik passed away at Fredensborg Palace. Here, Queen Margrethe of Denmark departed from the funeral in Copenhagen, Denmark.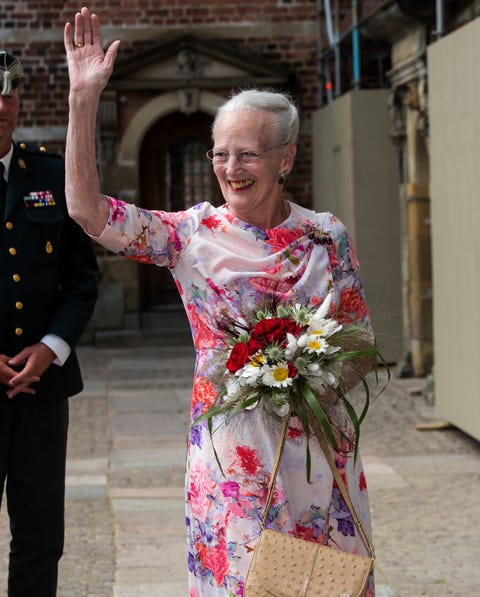 Ole JensenGetty Images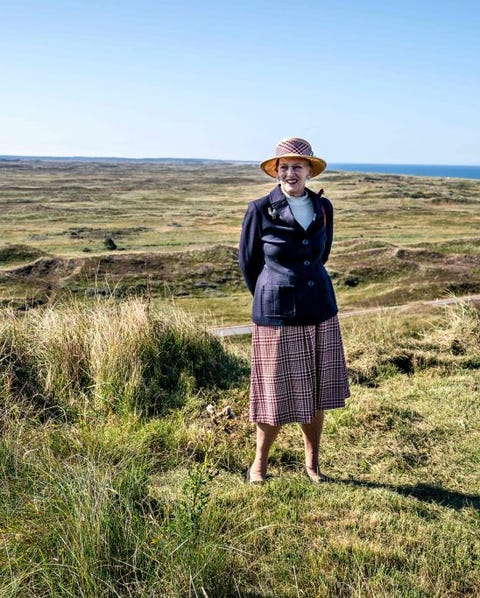 HENNING BAGGERGetty Images
Queen Margrethe posed for a photo at a viewpoint over National Park Thy in Hanstholm during her summer voyage.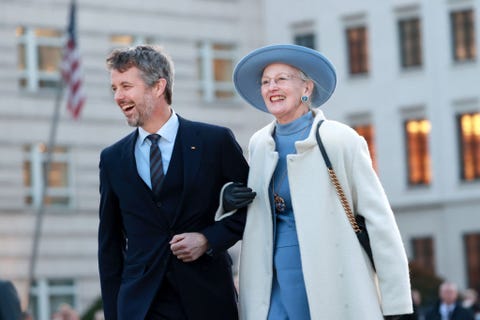 Maja HitijGetty Images
She accompanied her son, Prince Frederik, during a visit to Germany.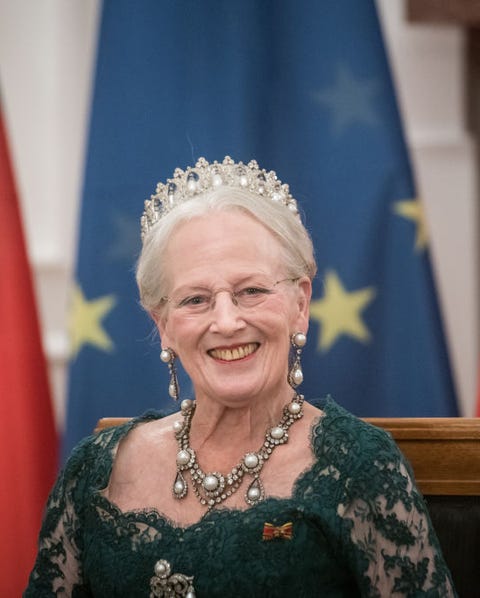 Steffi LoosGetty Images
During that visit to Germany, Queen Margrethe attended a state banquet in a glamorous green dress and a pearl tiara, the Pearl Poiré Tiara.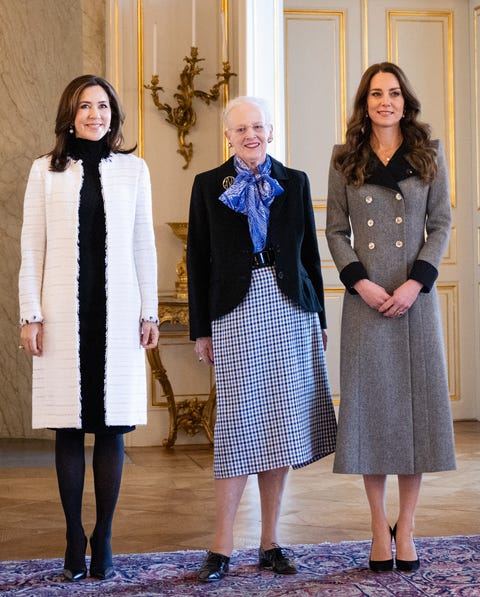 Samir HusseinGetty Images
She met with Kate Middleton and her daughter-in-law Princess Mary.
Kensington Palace described Kate's meeting with Queen Margrethe as "a timely reminder of the longstanding relationship between the two Royal Families and will coincide with The Platinum and Golden Jubilees being enjoyed this year."
Read more: the Best Photos from Kate Middleton's Trip to Copenhagen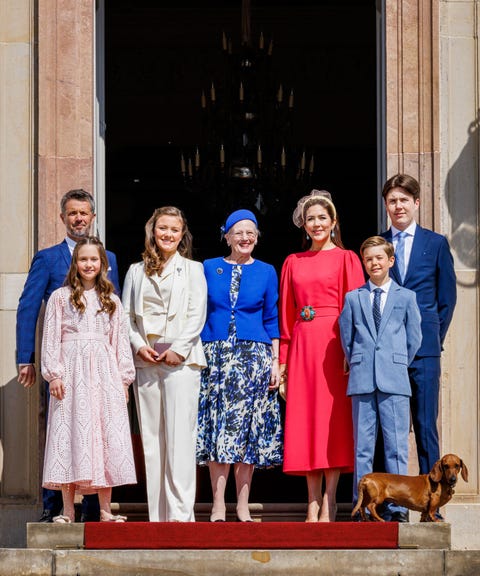 Patrick van KatwijkGetty Images
Recently, the Queen celebrated Princess Isabella's confirmation in Fredensborg.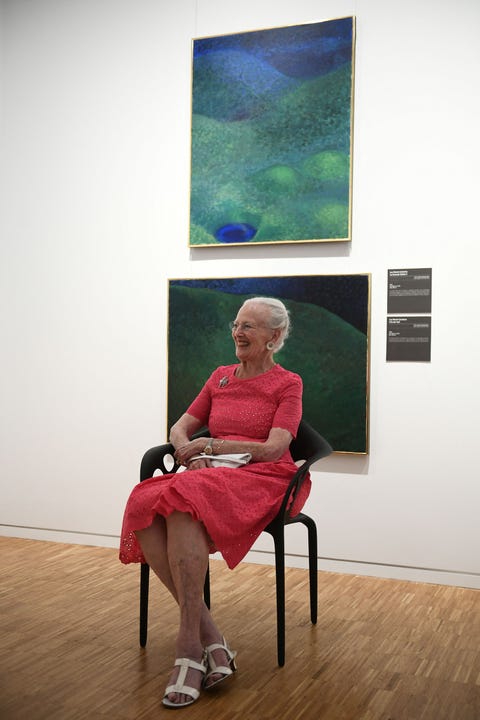 VALENTINE CHAPUISGetty Images
Wearing her daisy earrings (of course!), Margrethe inaugurated her artworks at the Henri Martin museum in Cahors.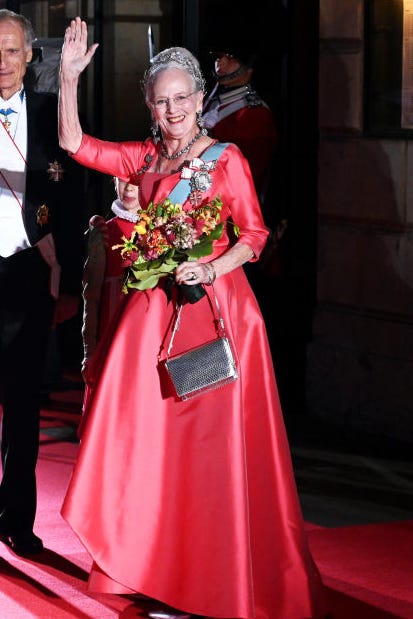 Anadolu AgencyGetty Images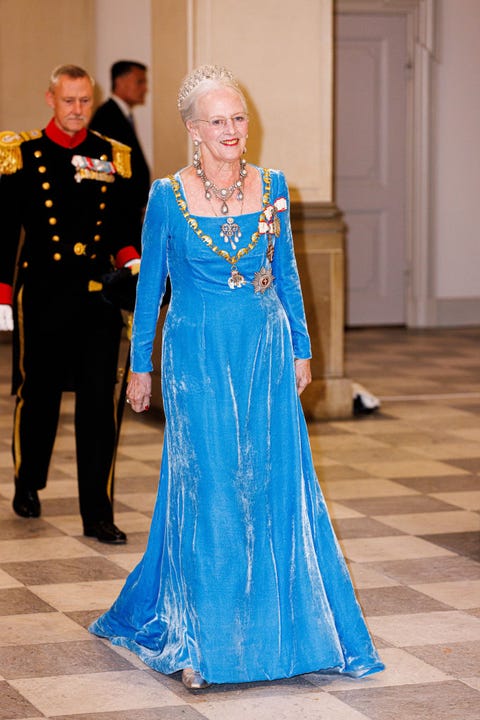 Patrick van KatwijkGetty Images
For the gala diner at Christiansborg palace celebrating her 50 years on the throne, Margrethe opted for a statement blue gown. Upon the death of Queen Elizabeth, Queen Margrethe becomes Europe's only reigning queen and the longest-serving living monarch in the world.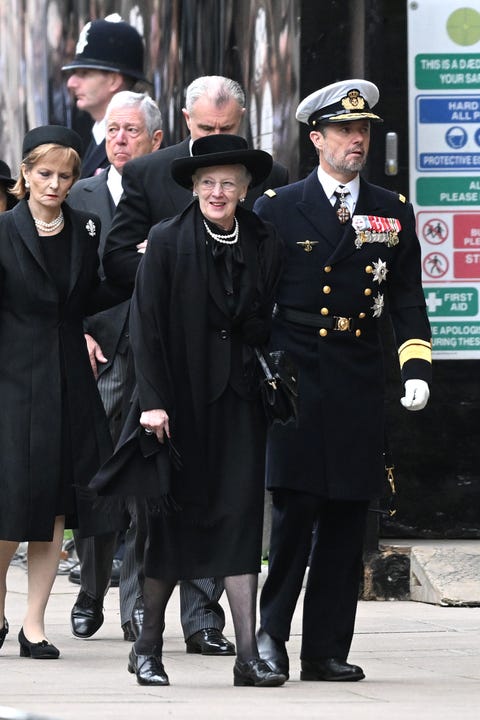 Samir HusseinGetty Images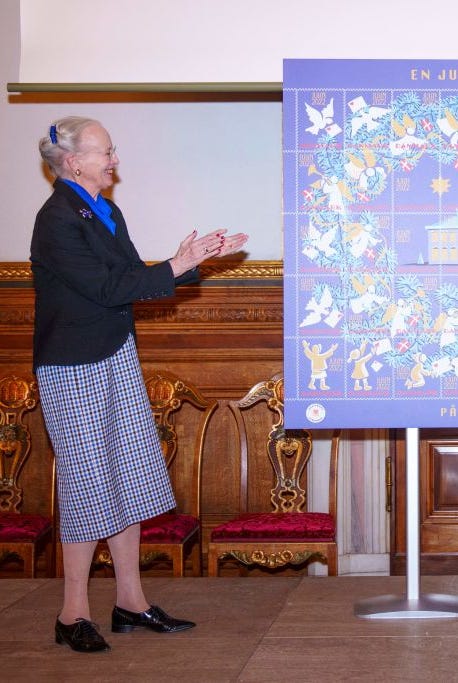 BO AMSTRUPGetty Images
Queen Margrethe got in the holiday spirit early in 2022. In October, she revealed the annual special Christmas stamp—which celebrates her golden jubilee and Fredensborg Castle's 300 year anniversary. The stamp also incorporated art from the three stamps the Queen herself previously drew.