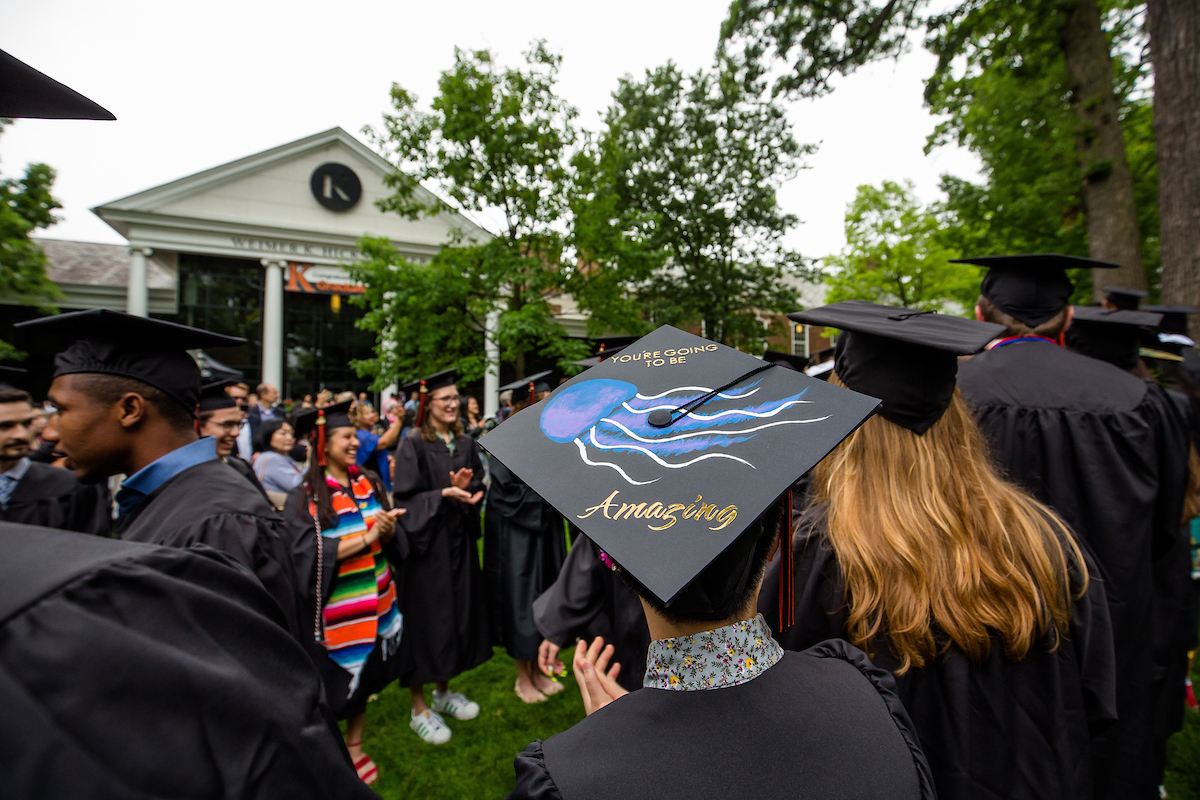 The Investment of a Lifetime, Because You are Worth It
When you're looking at the value of the K Experience—individualized curriculum, overseas experiences, and impactful internships or externships—it's hard to believe it could be so affordable.
At Kalamazoo College we invest in your future, just take a look at the numbers and you'll see our commitment to creating an affordable, accessible experience:
98% of our students receive some sort of financial aid.
Merit scholarships range between $30,000-$42,000 annually.
$45,752: Average need-based financial aid package.
More than $56 million was awarded in grants and scholarships to students in the 2022-23 academic year
More Bang for Your Buck
The Princeton Review named K a Best Value College for return on investment, and K was #19 on Money Magazine's Best Liberal Arts Colleges list based on quality, affordability and outcomes.
Still unsure? Our Office of Financial Aid can walk you through the ins and outs of our aid packages and show you a path to K.
2023-2024
Academic Year Costs

Tuition and Fees $58,764
Food and Housing $12,084
Merit-Based Scholarships
Get Admitted. Get a Scholarship. At the Same Time!
We automatically consider all applicants (first-year and transfer, domestic and international) for merit-based scholarships. No additional application is required.
These tuition-specific awards range from $30,000-$42,000/year for up to 4 years (while enrolled full-time, and in satisfactory academic progress).
| Unweighted GPA Ranges | Typical Merit Scholarship Amounts* |
| --- | --- |
| 3.0 – 3.6 | $30,000 – $33,000 |
| 3.6 – 3.8 | $34,000 – $37,000 |
| 3.8 – 4.0+ | $38,000 – $42,000 |
*You may also qualify for need based aid, if you apply

Your merit scholarship is determined by your academic achievements: the grades you earned, the challenging courses you have taken — everything that tells us you love to learn.
You get notified about your admission and scholarship offers at the same time.
Your merit scholarship can apply to your study abroad or study away experience.
We do not use your SAT and/or ACT scores to determine the size of your scholarship. (Remember: our admission process is 100% test-optional!)
Please consult the Types of Financial Aid page for additional information on scholarships and grants typically received by Kalamazoo College through the Office of Financial Aid.
Need-Based Aid
We're here to make sure Kalamazoo College is available to the students who belong here and will make our campus a richer community for all of us.
For you to be considered for additional state, federal, and institutional need-based aid you will need to file your FAFSA (ISFAA for international students) with K's code, 002275. Once a student has submitted their FAFSA or ISFAA, the Office of Financial Aid will determine if they are eligible for need-based grants and or work-study.
We recommend you file the FAFSA prior to the dates listed below to ensure your financial aid award is sent to you in a timely manner.
| Admission Program | FAFSA submitted by: | Financial Aid Award Offer |
| --- | --- | --- |
| Early Decision | November 15 | December 15 |
| Early Action | November 15 | January 15 – March 15 |
| Regular Decision | January 15 | April 1 |
International students who do not submit their ISFAA at the time of admission should not expect any need-based aid for the duration of their four years at Kalamazoo College.
Additional Scholarship Programs
Music and Theatre Scholarships (Leadership Award)

Music and Theatre Scholarships are competitive scholarships awarded to admitted students who have demonstrated commitment, skill and leadership potential in either area. This $5,000 tuition-specific scholarship is awarded annually for up to four tears. You do not have to be a theatre or music major to receive this scholarship—you just need to participate.

Learn more about this scholarship program through our music and theatre scholarships page. The deadline to apply is February 13th!
Kalamazoo Promise

Beginning with the 2015-16 academic year, the nationally renowned scholarship program known as the Kalamazoo Promise extended their program by partnering with Michigan Colleges Alliance (MCA), a consortium of independent, liberal arts-focused colleges. As a member of the MCA, Kalamazoo College may enroll and support Kalamazoo Promise-eligible students according to the terms of the program. Promise-eligible students are not eligible to receive merit scholarship aid from the College in addition to the Promise award; the level of tuition support is dependent on the qualifying years of eligibility under the terms of the Promise. For program details, please review the Kalamazoo Promise website.
National Merit Scholarship

National Merit Finalists who select Kalamazoo College as their first choice are eligible for a $2,000 renewable scholarship or a $2,500 one time scholarship. Please consult the National Merit Scholarship Program website for additional information on eligibility and requirements.
K Tradition Scholarship

This scholarship is for students who have one grandparent, parent, step-parent or legal guardian as an alum of Kalamazoo College. This award is open to first-year, transfer and international applicants.