The Galileo Galilei Institute (GGI), founded in 2005 by the partnership between the National Institute of Nuclear Physics (INFN) and the University of Florence, has been the first European Institute dedicated to organizing and hosting long-term workshops dedicated to theoretical physics of fundamental interactions. A Launching Committee was appointed to advise about scientific and management structures and suggest criteria for the formation of the Scientific and Advisory Committees. The members of the Launching Committee were David Gross, Giuseppe Marchesini, Alfred Mueller, Giorgio Parisi and Gabriele Veneziano (chair). The GGI was established in a building of the University of Florence on the historic hill of Arcetri, near the house where Galileo spent the last period of his life and died in 1642.
Since 2006 the GGI has been running on average three long-term workshops every year together with conferences and training or focus weeks. In addition, starting from 2013 four PhD schools have been organized every year on different domains of theoretical physics: string theory (this is the pioneering school organized at the GGI since 2008), theory of fundamental interactions, statistical field theory, nuclear and hadronic physics. In 2019 a fifth school on theoretical aspects of astroparticle physics, cosmology and gravitation has been added. Each school lasts two-three weeks during winter and aims at providing lectures on theoretical physics covering both basic as well as advanced topics. The courses of the GGI schools are officially part of the Italian PhD training program for the Universities that join the initiative.
In 2018 the GGI became "Centro Nazionale di Studi Avanzati dell'Istituto Nazionale di Fisica Nucleare" (National Center for Advanced Studies of INFN), once again in partnership with the University of Florence. The Institute thus confirmed its status as a reference point for the international scientific community and as a site dedicated to high-level training of young Italian and foreign researchers. The basic referent of the Center is the INFN National Scientific Committee for Theoretical Physics, which gives its full support to favour the activities of the Institute. Support to its initiatives is also provided by a grant of the Simons Foundation. Workshop proposals, every year, are selected by the GGI Scientific Committee.
Beside its institutional activities, the GGI hosts short term events like conferences, meetings and schools proposed by the international scientific community and selected by the GGI Council. In addition, a long-term visiting scientist program is active. Finally, researchers planning to carry on their research activity at the GGI on a regular basis can apply for the GGI Affiliated Membership.
In 2019, the "Galileo Galilei Medal" award was established. It is assigned every two years to one or more scientists who, in the 25 years before the date of the award, have achieved outstanding results in theoretical physics.
Invited speakers and other contributors to the GGI activities will be equally considered regardless of gender, nationality and ethnic or social origin. The GGI strongly discourage discrimination, harassment and any kind of disrespectful behaviour, actively encouraging friendly and respectful interactions among the participants, and endeavouring to provide a comfortable and professional work environement.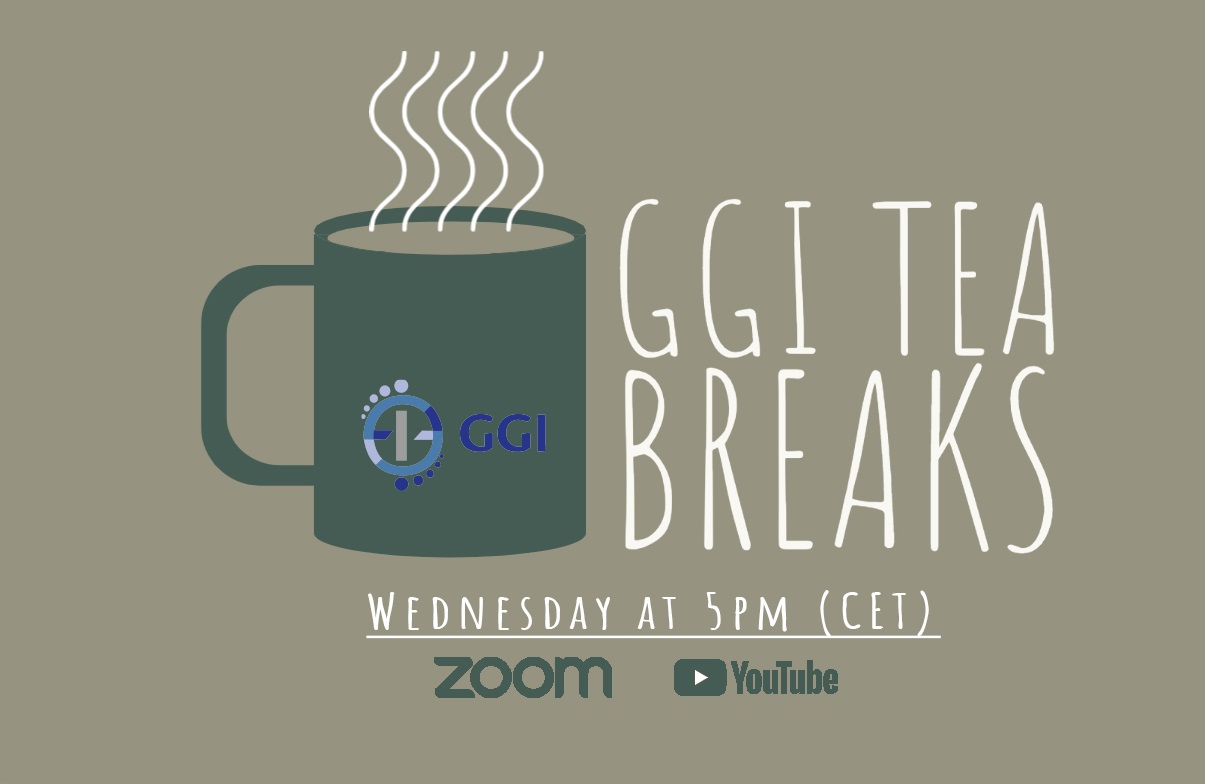 Director of the INFN National Center for Advanced Studies, Galileo Galilei Institute




Grasping the Cosmos



Previous News

Apr 26, 2023 - Jun 09, 2023

Jun 05, 2023 - Jun 09, 2023

Jun 12, 2023 - Jul 28, 2023

Jul 17, 2023 - Jul 22, 2023
Today Talks
Jun 08, 2023
Thursday, June 8   Morning session   Chair: Sophie Renner (Discussion)

Jun 08, 2023 - 09:55 - 12:30 - Room A

Axion cosmology (axion miniclusters, axion stars, axions and inflation)      (Talk)

Luca Visinelli 
Jun 08, 2023 - 10:00 - 11:00 - Room A

Review of activities in CAPP (Talk)

Yannis Semertzidis
Jun 08, 2023 - 11:30 - 12:30 - Room A

          Afternoon session  Chair: Luca Visinelli (Discussion)

Jun 08, 2023 - 14:25 - 17:00 - Room A

QCD axion couplings beyond standard chiral perturbation theory (Talk)

José Antonio Oller
Jun 08, 2023 - 14:30 - 15:10 - Room A

General equations of axion electrodynamics (Talk)

Anton Sokolov
Jun 08, 2023 - 15:10 - 15:50 - Room A

The cosmological axion domain wall problem (Talk)

Subir Sarkar
Jun 08, 2023 - 16:20 - 17:00 - Room A
Preprints
We are collecting the preprints which aknowledge the GGI. If your preprint is not in the list please submit it here.
GGI Youtube channel
This Youtube channel collects lectures and talks video-recorded during GGI programs.
Lectures for PhD students
In our archive we have collected many lectures covering the main topics in theoretical physics given by the greatest experts in the field at the GGI schools.
Here the suggestions for this week (please refer to the corresponding GGI School for lecture notes or additional material).