Gordonstoun: The Scottish school that educated a king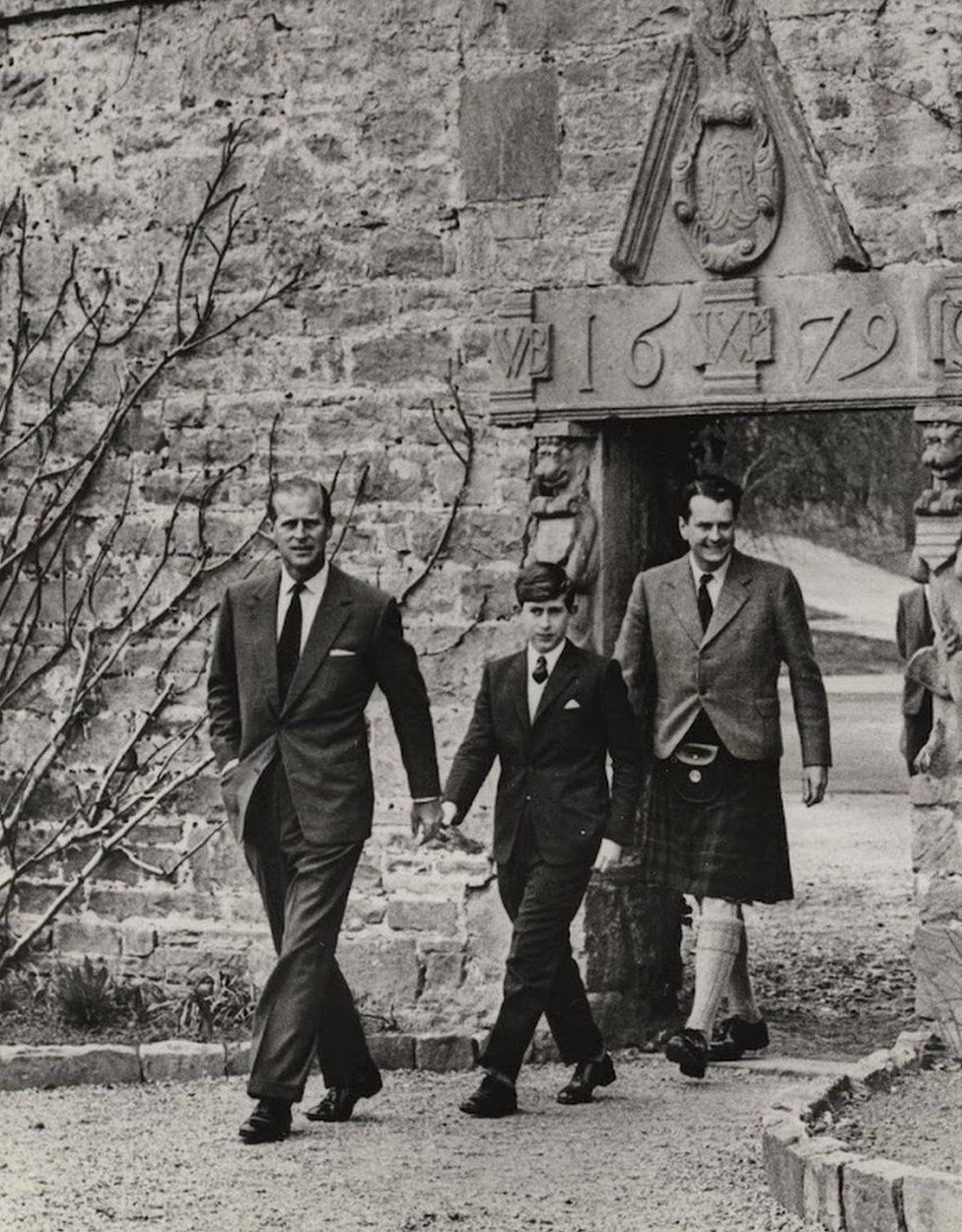 When Queen Elizabeth II and the Duke of Edinburgh went to watch the future King Charles III performing at Gordonstoun, their seats were reserved with pieces of paper which simply said "Mum" and "Dad".
His education at the independent boarding school, in Moray, was a significant departure from the royal norm.
He was the first Prince of Wales to be educated at a school rather than by private tutors. And his accession to the throne makes Gordonstoun the first senior school to educate a British monarch.
The school was founded in 1934 by a German Jewish educationist, Kurt Hahn, after he fled the Nazis. His vision was to create well-rounded citizens of the world, with a focus on life skills and service as much as academic achievement.
The young prince joined at the age of 13.
On his first day, on 1 May 1962, the then Prince Charles was flown to RAF Lossiemouth in a plane piloted by his father Prince Philip, who was one of Gordonstoun's first pupils. He was then driven about half a mile to the school.
Over the next five years he studied the school's broad curriculum and took part in a range of activities away from the classroom. These includes sailing, being a member of HM's Coastguard unit, taking lead roles in drama productions, singing in the school choir, and playing trumpet and cello.
His performance as the king in a school production of William Shakespeare's Macbeth, in 1965, received critical acclaim, with newspapers using a striking image of him on their front pages.
The Queen and Duke of Edinburgh joined other parents to watch the final performance.
Other roles included the Duke of Exeter in Shakespeare's Henry V and the Pirate King in the school's 1967 production of the Gilbert and Sullivan operetta The Pirates of Penzance.
He was described as "the best actor in the school" by Donald McLachlan in the Sunday Telegraph.
He was a member of the Debating Society and was an accomplished potter. He also went on regular sailing and walking expeditions in the Highlands and in his final year was head boy.
He left Gordonstoun in 1967 with five O-levels in English Language, English Literature, History, Latin and French and two A-levels in History and French.
He achieved above average results which secured him a place to study archaeology and anthropology at Cambridge University.
It was a surprise decision for a future king, who would have been expected to focus on specially-chosen subjects such as constitutional history.
There have been numerous reports that King Charles hated his time at Gordonstoun and that he struggled to cope in the tough environment.
However, he has often played this down. During a House of Lords speech in 1975, he said: "I am always astonished by the amount of rot talked about Gordonstoun and the careless use of ancient clichés used to describe it.
"It was only tough in the sense that it demanded more of you as an individual than most other schools did - mentally or physically.
"I am lucky in that I believe it taught me a great deal about myself and my own abilities and disabilities. It taught me to accept challenges and take the initiative."
The previous year he told The Observer that he was glad he went to Gordonstoun.
"I didn't enjoy school as much as I might have, but that was only because I'm happier at home than anywhere else," he said.
"But Gordonstoun developed my willpower and self control, helped me to discipline myself… We went in for 'adventure'.
"We ran our own fire brigade, we had our own sea rescue service, mountain rescue, surf life-saving, coastguard, etc. It was adventure. And we were damn good."
During the early days of Gordonstoun, the daily timetable included a morning run of 50 to 100 yards, followed by a warm shower then a cold one.
A newspaper profile ahead of the king's 30th birthday noted that he had seemed "temporarily unsuited" for the rigours of Gordonstoun but added: "Nowadays, he pays tribute to Kurt Hahn's tough training in self reliance and leadership."
It said Hahn's teaching had shaped his adult life, particularly in his approach to "alienated and underprivileged" youth.
King Charles was said to have liked fishing and hockey at school but "loathed" playing cricket. It was reported that his weakest subject was maths.
In 1964, he undertook a week's training at Portsmouth naval base with the cadet force from Gordonstoun to be taught basic sailing, rowing and navigation.
While at Gordonstoun, the young prince lived in Windmill Lodge - now a female boarding house. His contemporaries describe the communal areas as warm and cosy, although it was customary to leave a window open in dormitories for ventilation.
One former pupil said: "In Windmill Lodge, at that time, everybody except the House Helper slept in dormitories, of which the smallest was four beds and the largest about six beds, I think, maybe one or two had eight.
"Charles was no exception… until he became the House Helper when, like his predecessors, he had his own study/bedroom.
"As for the beds themselves, everyone had identical beds, which were simple, modern and lowish (the kind that is nowadays called a divan). They were fairly comfortable and there were no complaints about them."
Charles also took part in an exchange trip to a school in the Australian outback in 1966. He said it was "rigorous" and tougher than Gordonstoun, but he loved it.
He went on expeditions into the bush every weekend and ran two cross country runs a week.
He also wrote an account of his stay in the school magazine, in which he said: "There is a lot of wood chopping done here but I'm afraid it's very essential as the boys boilers have to be stoked with logs and the kitchen uses a huge number.
"The first week I was here I was made to go out and chop up logs on a hillside in boiling hot weather. I could hardly see my hands for blisters after that."
During his time at the school there were reports that he fell ill with pneumonia while camping out on the royal estate at Balmoral along with three other boys from Gordonstoun, and that he broke his nose while playing rugby at school.
The biggest scandal was over what was dubbed the Cherry Brandy Affair, in June 1963 - when the the King drank a cherry brandy at a hotel on the island of Lewis.
Not only was he under the legal drinking age but it was also forbidden for Gordonstoun boys to drink alcohol.
The story made the papers and King Charles was spoken to "strongly" by the head teacher.
He later spoke about the incident in a radio interview, saying he had gone to the bar to escape "people looking in the windows" at him while he was waiting for a meal.
Having never been in a bar before, he said the "most sensible" thing to do was to have a drink.
"And being terrified not knowing what to do I said the first drink that came into my head, which happened to be cherry brandy, because I'd drunk it before when it was cold out shooting - and hardly had I taken a sip when the whole world exploded around my head. That's all."
Lisa Kerr, principal of Gordonstoun, said King Charles' life of service, love of the outdoors, enjoyment of the arts and intellectual curiosity had all been nurtured at the school.
"It was at Gordonstoun that he discovered a love of archaeology and became an accomplished actor and potter," she said.
"He also helped the community through his involvement in the Coastguard Service, and His Majesty remains a patron of the Coastguard to this day."
She added: "Many of our former pupils who were his contemporaries talk of a quiet and talented student who blossomed at school, especially after an exchange trip to Australia. We wish him every success in his reign."