ABOUT MARY POPPINS MUSICAL
Mary Poppins is Disney and Cameron Mackintosh's multi award-winning West End musical playing now in London's Prince Edward Theatre. The magical story of the world's beloved nanny is brilliantly brought to life on stage, adapted from PL Travers book series and the original 1965 film.
Mary Poppins is set in Edwardian London and follows the Banks family as they struggle to discipline their deviant children - with nanny after nanny fleeing the family from Cherry Tree Lane. However, following an advert for the perfect nanny in the paper posted by young Jane and Michael Banks, their world is soon turned upside down. Fixing misbehaviour with magic - and a spoonful of sugar or two - Mary Poppins arrives to transform the way the Banks family live forever.
The Mary Poppins West End production is second to none - think big musical numbers, dazzling choreography and incredible special effects. The theatre adaptation also includes the Sherman Brothers' famous songs such as Chim Chim Cher-ee, The Perfect Nanny, A Spoonful Of Sugar and Feed The Birds, along with new favourites Practically Perfect, Precision And Order, Playing The Game and Being Mrs Banks, written especially for the stage by George Stiles and Anthony Drewe.
Expect dancing on London rooftops at night, moving statues, magical talking shops and more in this theatre masterpiece - Mary Poppins is practically perfect in every way.
MARY POPPINS - WEST END THEATRE PHOTO GALLERY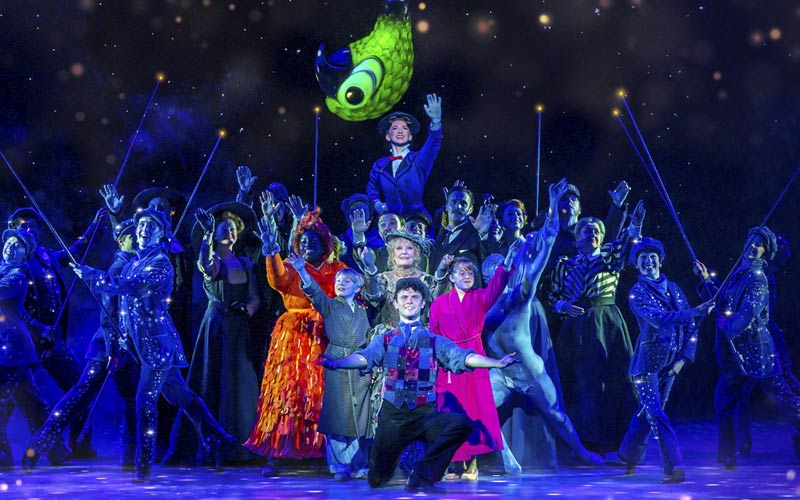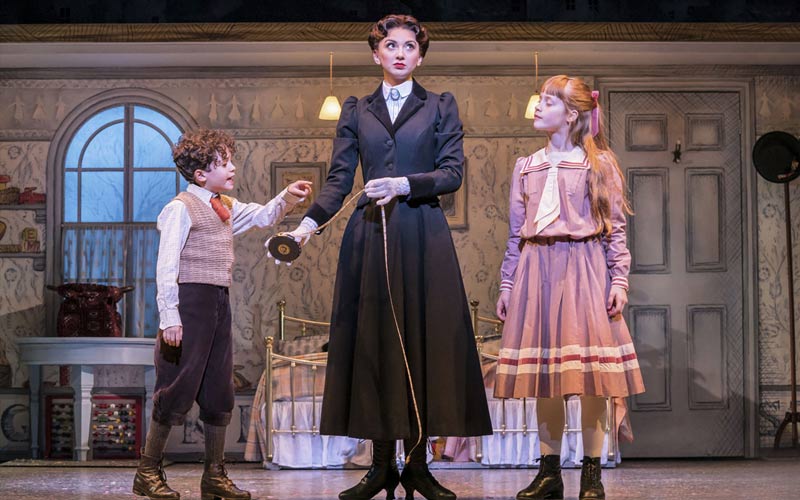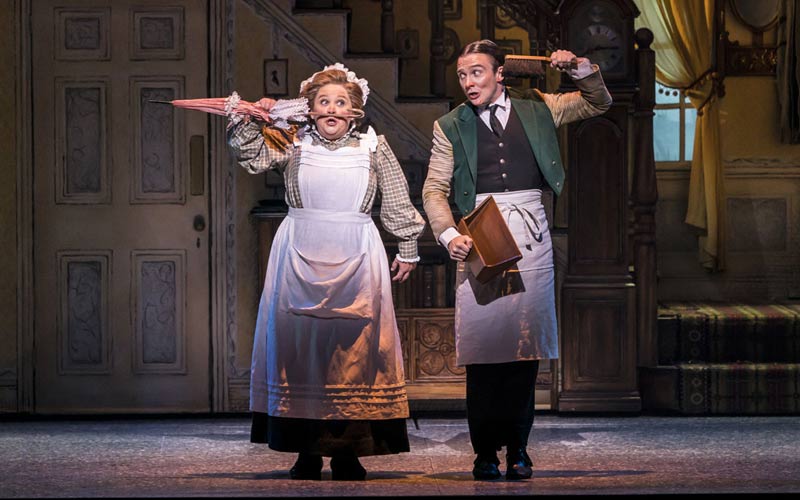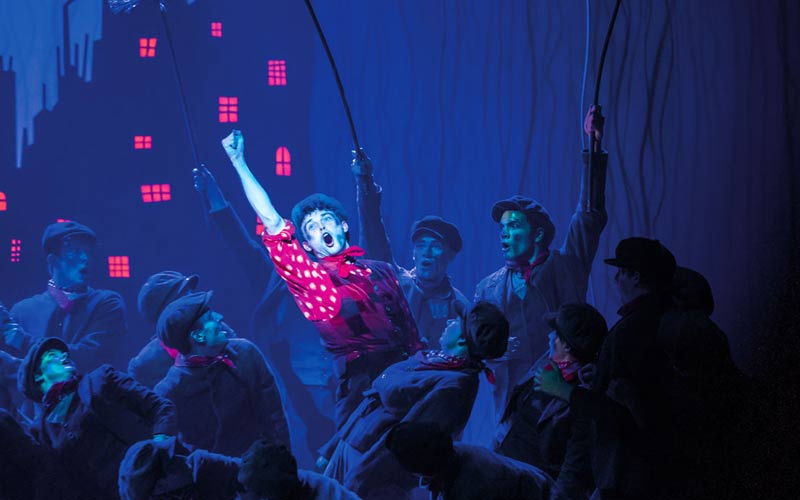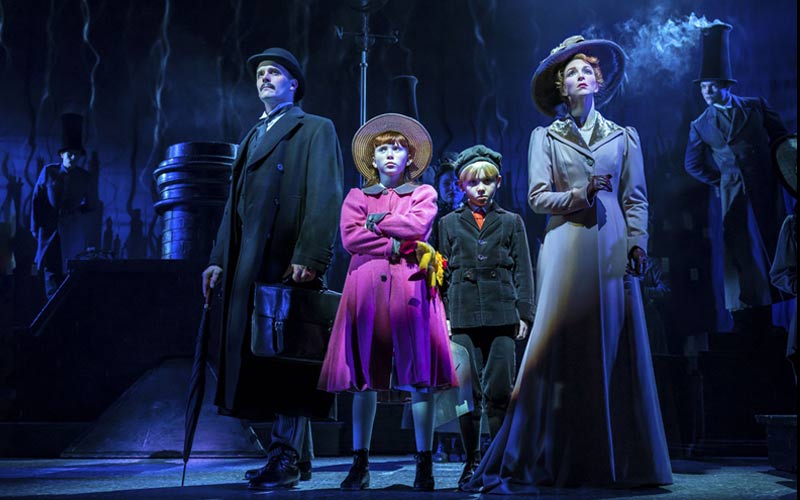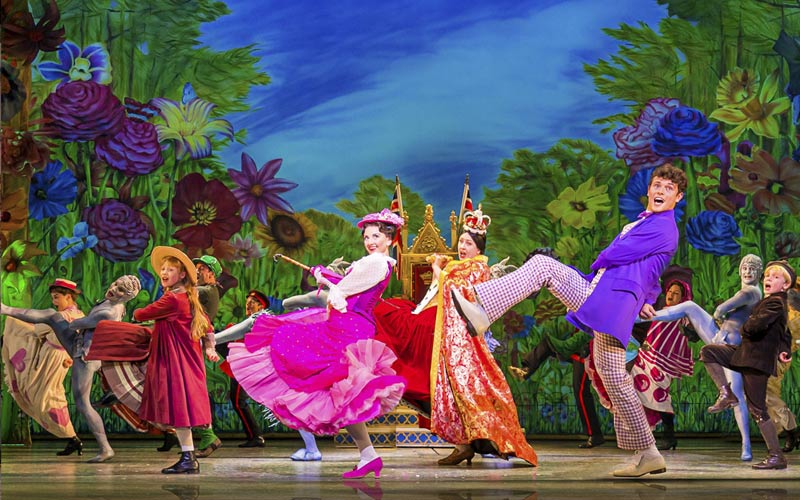 Mary Poppins Tickets
Tickets for Mary Poppins are currently unavailable for the musical in Prince Edward Theatre in London's West End.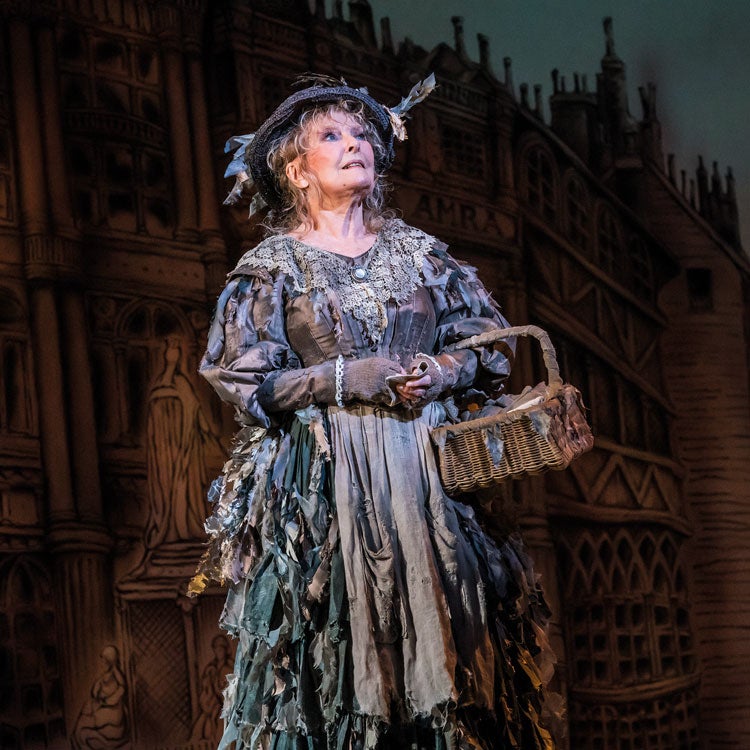 Mary Poppins Musical Cast and Characters
The cast for Mary Poppins the musical in London includes the following:
Mary Poppins – Zizi Strallen
Bert – Charlie Stemp
George Banks – Joseph Millson
Winifred Banks – Amy Griffiths
Jane Banks – Adelaide Barham; Imogen Bourn; Charlotte Breen; Ellie Kit Jones; Nuala Peberdy
Michael Banks – Joseph Duffy; Samuel Newby; Gabriel Payne; Edward Walton; Fred Wicox
Bird Woman – Petula Clark
Miss Smythe/Miss Andrews – Claire Moore
Mrs Brill – Claire Machin
Robertson Ay – Jack North
Admiral Boom / Bank Chairman – Paul F. Monaghan + more
Please note cast and line-up are subject to change.
The stage production of Mary Poppins is adapted from stories by PL Travers and the original film. It is co-created by Cameron Mackintosh and has a book by Julian Fellowes, musical score by Richard M Sherman and Robert B Sherman, and music and lyrics by George Stiles and Anthony Drewe.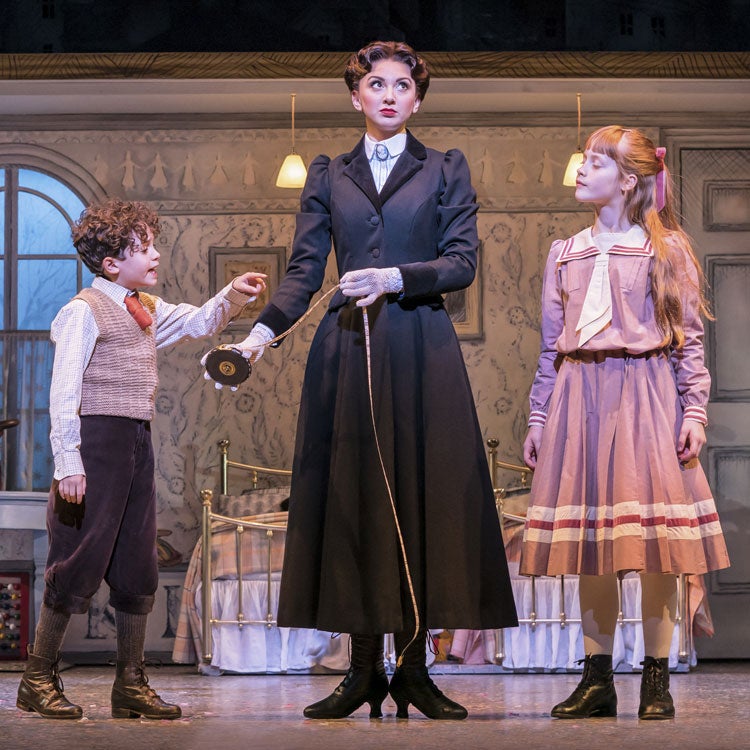 ACCESSIBILITY
Prince Edward Theatre welcomes guests with access requirements and strives to make the show accessible for everyone. Book tickets through the details below.
For wheelchair access, dress circle seats are recommended. The easiest access for wheelchair users is to enter the theatre via the Dress Circle entrance on Greek Street. The venue can accommodate two wheelchairs plus an essential companion in a box in the Dress Circle, for those who cannot transfer from their wheelchairs. If a customer can transfer to a seat, there is a total of four seats that can be accessed.
---
Prince Edward Theatre Access Information:
---
Mary Poppins Theatre Features
FAQs
Where is Mary Poppins playing in London?
Mary Poppins takes place at Prince Edward Theatre in London's West End. The full address is Old Compton Street, Soho, London, W1D 4HS, UK.
How to get to Mary Poppins in Prince Edward Theatre:
By Underground - the nearest tube station is Leicester Square, serving the Northern and Piccadilly lines. Tottenham Court Road is also nearby, serving the Northern and Central lines.
By train - the nearest rail station is Charing Cross.
By Bus - the bus routes 3, 6, 9, 12, 13, 14, 15, 19, 22, 23, 38, 88, 94, 139, 159 and 453 stop nearby the theatre.
By Car - public transport is recommended. There are Q-Park car parks nearby along with parking at Meters at Soho and NCP at Brewer Street.
For the latest London travel information, visit TFL Journey Planner. Please note that in the interest of safety, security and bag checks are in place at the theatre.
When is Mary Poppins playing in the West End? What are the performance times and dates?
Mary Poppins takes place each week at 19:30 on Monday, 19:00 on Wednesday and at 19:30 on Friday and Saturday. There is an additional matinee show at 14:30 on Thursdays, Saturdays and Sundays.
It is recommended to arrive to the theatre venue at least 30 minutes in advance.
How long does the Mary Poppins musical run for?
The running time for Mary Poppins in the West End is approximately 2 hours 50 minutes including a 20-minute interval.
Is Mary Poppins touring in the UK in 2021?
There are no confirmed UK tour dates for the Mary Poppins musical so far in 2021. Mary Poppins is currently playing at Cambridge Theatre in the West End in London - keep checking back for news on UK theatre tour dates!
Are accessible tickets available?
Access bookings are available - call 0844 482 5137 for further details.
Are there age limits for the show? Is it family friendly?
Yes, Mary Poppins the musical is a family-friendly theatre show. However, please note it is recommended for children aged seven and above. There is an age limit of five years old - children aged under five are not permitted to enter the show. All guests aged 16 and under must be seated with an accompanying adult.
Can I book group tickets for 10+ people?
Our Groups Guide has all of our shows which are available for group bookings. Simply contact us and fill out our Group Booking Form if you wish to enquire about group bookings for the show. You can also apply for school bookings through our groups form.
How much are tickets for Mary Poppins musical?
Tickets for Mary Poppins are available at various price points on our interactive seating map of each theatre. Depending on availability, tickets can be purchased at prices starting from £18.00. Theatre tickets from Ticketmaster are verified and safe to buy. Please note that all tickets and prices are subject to availability.
Are cheaper tickets available for the Mary Poppins theatre show?
Yes, cheaper tickets are available for Mary Poppins the musical depending on which section you are sitting in the theatre. Our ticketing system has colour-coded ticket options at various price points to choose from, ranging from the lowest priced tickets to the highest. View all tickets here.
Keep an eye on our Offers guide for all of our theatre ticket deals, including discounted shows and 2-for-1 ticket options for multiple events. Please note that offers are limited and subject to availability.
Note: Mary Poppins contains theatrical smoke and fog effects, pyrotechnics, strobe lighting and loud noises.
Please note that Ticketmaster can only deal with questions and issues regarding tickets. For all other enquiries regarding the show, please visit the Mary Poppins website or contact them directly.
COVID Information
Do I need proof of vaccination or a negative Covid test to enter the theatre?
As capacity restrictions are lifted, audience members are asked to bring with them proof of double vaccination, a recent negative lateral flow test or natural immunity. Simple ways to demonstrate proof include the NHS Covid Pass, NHS Covid-19 test notification or an internationally recognised equivalent.
Is there anything else I should about know about going to the theatre?
Theatre goers are recommended to keep the following in mind:
Wear a face covering out of consideration for those around you.
Do not come to the theatre if you feel unwell, have any coronavirus symptoms or have been told to self-isolate.
Use the hand-sanitiser available at the theatre.
Be mindful of others and their space, where possible, particularly when moving around the theatre.
Only bring one small bag that can be stored under your seat, as the cloakrooms are not currently available.
What measures are in place to keep theatre goers safe?
Among the safety and security precautions, the theatre now:
Delivers an enhanced level of cleaning throughout the venue
Provides 100% fresh air through the ventilation system
Carries out contact-free security checks
Cannot accept cast gifts or arrange opportunities for cast autographs or photos