watch 02:18
SpongeBob Profile: Tom Kenny
Play Sound
Person
Thomas James "Tom" Kenny is an American actor, voice actor, comedian, voice director, and musician. He is a main cast member and most known for the SpongeBob SquarePants franchise, voicing SpongeBob, Gary the Snail, and the French Narrator. He also portrays the series' host, Patchy the Pirate, in many special episodes and Nickelodeon commercials.
Kenny is the husband of Jill Talley (the voice of Karen Plankton). He is the only cast member to provide a voice role in every episode (with the exception of the dialogue-free episode "Reef Blower"). He has written several songs for the show, like "The Best Day Ever," and has held the position of voice director since season 9.
Tom Kenny is a prolific voice actor outside of SpongeBob, known for voicing characters such as the Ice King in Adventure Time and Adventure Time: Distant Lands, the Mayor in both incarnations of The Powerpuff Girls, Heffer in Rocko's Modern Life and Rocko's Modern Life: Static Cling, and Dog in CatDog and Raimundo Pedrosa, Grand Master Dashi, Vlad, Klofange and Hannibal Roy Bean in Xiaolin Showdown. He is part of a rock-and-roll band called Tom Kenny and The Hi-Seas.
List of live-action cameos
Note: This list does not include the Patchy the Pirate appearances.
Non-SpongeBob discography
The following is a list of works where Tom Kenny played a role, outside of the SpongeBob SquarePants series.
Television
Rocko's Modern Life - Heffer Wolfe, numerous other characters
Dexter's Laboratory - ValHallen, Douglas, Peepers, Creature #1, Robot, Scientist #1, Alien, Narrator, Fish, Gage, Student #3, Rocker, several minor characters
Talking Tom and Friends- Talking Hank, Roy Rakoon, Jeremy, numerous background characters
The Powerpuff Girls (1998 TV series) - The Mayor of Townsville, Narrator, Elf#1, Little boy
Dumb and Dumber - Various characters
Cow and Chicken - Various characters
Brandy and Mr. Whiskers - Ed the Otter
Codename: Kids Next Door - Knightbrace, Common Cold, Chester, Cuppa Joe, President James Nixon McGarfield, Mr. John Wink, Principal, Hall Monitors, Interesting Twins From Beneath the Mountain (Boy), Sheldon, Bartie Stork/Numbuh 35 ("Operation: U.N.D.E.R.C.O.V.E.R."), Goof (Member of the Six-Gum Gang), Ned the Guard, President Jimmy Robot, Numbuh 30c, Nerd Zombie Leader, Numbuh 34, Numbuh 142, Billy Hocslawger, Teen Ninjas, Ice Cream Men, Candy Pirates, Hoagie Gilligan IV (Numbuh 2's grandson), Narrator of "Operation: N.A.U.G.H.T.Y.," Rowdy Hooligans from Across the Square, Trevor, Eggbert Eggleston, Bruce of the Delightful Children From Down The Lane
Mad Jack the Pirate - Various characters
Mission Hill - Wally Langford, others
Harvey Birdman: Attorney at Law - Various characters
The Grim Adventures of Billy and Mandy - Wiggly, Big Bad Wolf, Boo Boo Bear, King Cobra, Viper various characters

Evil Con Carne - Warren, Kid #1, Huckleberry Hound Impression

Grim & Evil - The Announcer, Ms. Largebottom, Preppy Kid, Warren, Kid #1, Teen

My Life as a Teenage Robot - Various characters
Handy Manny - Pat the Hammer, Mr. Lopart, and Fluffy
The Adventures of Jimmy Neutron: Boy Genius - Red Nanobot, Various characters
Transformers: Animated - Starscream, Isaac Sumdac, Wasp, and some other bots
Big Time Rush episode "Big Time Beach Party" - Patchy the Pirate
Adventure Time - Ice King, Gunter, Magic Man
Mighty Cat Masked Niyander & Mighty Cat Masked Niyander ZXL - Nyago Nyanoko/Niyander
Breadwinners - Sway-Sway's father
Miles from Tomorrowland - Leo Callisto
Talking Tom and Friends - Hank, Jeremy, Mel, Santa
Chowder - Smelly Man, Boot Man, Pants Dude, Various characters
Puppy Dog Pals - A.R.F. (Auto-Doggie Robotic Friend), Various characters
The Super Hero Squad Show - Iron Man, Captain America, MODOK
Kick Buttowski: Suburban Daredevil - Cousin Kyle
Cosmic Quantum Ray - Quantum Ray, Professor Evil Brainhead, Commander Fuzzy, Kronecker, Guy Gamma
Dan Vs. - Crunchy
WordGirl - Dr. Two-Brains, T.J. Botsford, additional voices
Big City Greens - Old Man
Greeny Phantom - Green Bob, Green Bob 2
The Adventures of Rocky and Bullwinkle- Colonel Boudreaux
Winnie The Pooh - Rabbit
Transformers: Animated - Starscream, Starscream's Clones, Isaac Sumdac, Waspinator
Henry Hugglemonster - Daddo
Mixels - Flain, Seismo, Teslo
The Batman - The Penguin
Super Robot Monkey Team Hyper Force GO! - Mr. Hal Gibson
Teenage Mutant Ninja Turtles (2012) - Dr. Tyler Rockwell
Miles in Tomorrowland - Leo Callisto
Lobo - Sunny Jim (episodes 3-5), MBA, Major Snake, Snake, Stumpy, Space Penguins, Clerk
DuckTales (2017 TV series) - Cousin Fethery
This list is incomplete, but you can help Encyclopedia SpongeBobia by expanding it.
Film
This list is incomplete, but you can help Encyclopedia SpongeBobia by expanding it.
Video games
Trivia
At one point, voice actor Jess Harnell auditioned for the role of SpongeBob before Kenny was chosen.[1]
Over the years, many fans of the show have asked Kenny to lend SpongeBob's voice to their voice email and answering machines. In an interview, he joked that these custom messages might be more common than the factory (default voice).
Kenny first used the voice for SpongeBob for a minor female alligator character called Al on Rocko's Modern Life who appeared in the episode "Dear John." This is also the first time Kenny and Stephen Hillenburg worked together. Hillenburg wanted Kenny to use that voice for SpongeBob, so he showed him a clip of Al in Rocko's Modern Life to remind Kenny of the voice.
He also voiced Han "Chuck" Solo in the Angry Birds Star Wars Cinematic Trailer. Han's laugh also sounds similar to SpongeBob's.[2]
To produce SpongeBob's trademark laugh, Kenny pats his throat while saying "ah."[3]
His birthday is July 13, one day before SpongeBob's, on July 14.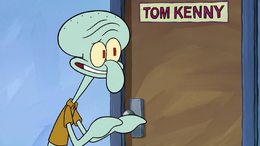 In the 2017 San Diego Comic Con, he said his favorite SpongeBob meme is "Mocking SpongeBob."[4]
The drop of Volcano Sauce was shot in the Nickelodeon restroom and Tom Kenny had to wear red makeup all over his face to portray the character. He also had an audition on that same day the scene was shot, but the red makeup did not completely come off in time. As a result, he still had a little bit of red makeup on his face and it made him look like he was having high blood pressure.[5]
The Volcano Sauce drop is credited as "Hot Sauce Drop."
Before SpongeBob even became a global success, Tom showed a VHS tape of the pilot to random people and even his family and it made them laugh.[6]
Tom does not have a laptop, so the only way he can see memes is when Bill Fagerbakke sends it to him on his phone.[7]
Tom and his wife, Jill, appear in the music video for "Tonight, Tonight" by The Smashing Pumpkins.
According to an interview in an issue of Nickelodeon Magazine, Tom Kenny was very sick at the time of recording the lines for the episode "Suds." This made SpongeBob sound genuinely sick as well.
There's a digital collection that has his top 20 favorite episodes named The Tom Kenny Collection.
Roles
Gallery
See also
External links
References
Annie Awards
Outstanding Individual Achievement for Voice Acting by a Female Performer in an Animated Television Production
Voice actors: Mary Jo Catlett as Mrs. Puff (in "No Free Rides;" 2001)

Outstanding Individual Achievement for Voice Acting by a Male Performer in an Animated Television Production
Voice actors: Tom Kenny as SpongeBob SquarePants (in "Wormy;" 2001)

Outstanding Individual Achievement for a Song in an Animated Production
Singers: Peter Strauss and Paul Tibbitt for "The Very First Christmas" (in "Christmas Who?;" 2001)

Best Writing in an Animated Television Production
Writers: C.H. Greenblatt, Paul Tibbitt, Mike Bell, and Tim Hill (for "Fear of a Krabby Patty;" 2006)

Best Voice Acting in an Animated Television Production
Voice actors: Tom Kenny as SpongeBob SquarePants (in "Spy Buddies;" 2008)

Direction in an Animated Television Production or Short-form
Directors: Alan Smart (for "Penny Foolish;" 2009)

Best Home Entertainment Production
DVDs: SpongeBob vs. The Big One (DVD) (2010)

Best Voice Acting in a Television Production
Voice actors: Tom Kenny as SpongeBob SquarePants (in "Truth or Square;" 2010)

Music in a Television Production
Composers: Jeremy Wakefield, Sage Guyton, Nicolas Carr, and Tuck Tucker (2011)

Writing in a Television Production
Writers: Dani Michaeli, Sean Charmatz, Nate Cash, Luke Brookshier, and Paul Tibbitt (for "Patrick's Staycation;" 2012)

Character Animation in an Animated Television or other Broadcast Venue Production
Animators: Dan Driscoll and Savelen Forrest (for "It's a SpongeBob Christmas!," 2013)

Directing in an Animated Television or other Broadcast Venue Production
Directors: Mark Caballero and Seamus Walsh (for "It's a SpongeBob Christmas!," 2013)

---
Emmy Awards

Primetime Emmy Awards
Outstanding Animated Program (for Programming Less Than One Hour)
Nominees: Sean Dempsey, Derek Drymon, Juli Murphy Hashiguchi, Sam Henderson, Stephen Hillenburg, Jay Lender, Mark O'Hare, Kent Osborne, Alan Smart, Paul Tibbitt, Tom Yasumi (for "New Student Starfish"/"Clams," 2003) • Derek Drymon, Juli Murphy Hashiguchi, Stephen Hillenburg, Kent Osborne, Andrew Overtoom, Alan Smart, Paul Tibbitt (for "Ugh," 2004) • Mike Bell, C.H. Greenblatt, Stephen Hillenburg, Alan Smart, Paul Tibbitt, Vincent Waller, Tom Yasumi (for "Fear of a Krabby Patty"/"Shell of a Man," 2005) • Casey Alexander, Luke Brookshier, Stephen Hillenburg, Tom King, Dani Michaeli, Chris Mitchell, Andrew Overtoom, Alan Smart, Paul Tibbitt and Tom Yasumi (for "Bummer Vacation"/"Wigstruck," 2007) • Steven Banks, Charlie Bean, Stephen Hillenburg, Dani Michaeli, Chris Reccardi, Alan Smart, Aaron Springer, Paul Tibbitt, Tom Yasumi (for "The Inmates of Summer"/"The Two Faces of Squidward," 2008)

Outstanding Special Class - Short-Format Animated Programs
Nominees: Dina Buteyn, Stephen Hillenburg, Dani Michaeli, Alan Smart, Aaron Springer, Paul Tibbitt and Tom Yasumi (for "Dear Vikings," 2009)

Outstanding Short-format Animated Program
Nominees: Luke Brookshier, Dina Buteyn, Nate Cash, Stephen Hillenburg, Doug Lawrence, Andrew Overtoom, Alan Smart and Paul Tibbitt (for "That Sinking Feeling," 2011) • Marc Ceccarelli, Stephen Hillenburg, Kyle McCulloch, Jennie Monica, Jack Pendarvis, Alan Smart, Paul Tibbitt, Vincent Waller, Tom Yasumi (for "Company Picnic," 2016) • Luke Brookshier, Marc Ceccarelli, Stephen Hillenburg, Jennie Monica, Adam Paloian, Alan Smart, Vincent Waller, Tom Yasumi (for "Plankton Paranoia," 2019)

---
Daytime Emmy Awards
Outstanding Directing in an Animated Program
Directors: Andrew Overtoom, Andrea Romano, Alan Smart and Tom Yasumi (2010) • Casey Alexander, Luke Brookshier, Nate Cash, Zeus Cervas, Sean Charmatz, Andrew Overtoom, Andrea Romano, Alan Smart, Aaron Springer, Paul Tibbitt, Vincent Waller and Tom Yasumi (2012)
Outstanding Special Class Animated Program
Animators: Dina Buteyn, Stephen Hillenburg and Paul Tibbitt (2010)

Outstanding Children's Animated Program
Nominees: Stephen Hillenburg, Jennie Monica Hammond and Paul Tibbitt (2012) • Stephen Hillenburg, Marc Ceccarelli, Vincent Waller and Jennie Monica (2018)

Outstanding Performer in an Animated Program
Voice actors: Rodger Bumpass as Squidward Tentacles (2012) • Tom Kenny as SpongeBob SquarePants (2018) • Tom Kenny as SpongeBob SquarePants (2020)

Outstanding Sound Editing – Animation
Nominees: Todd Brodie, Nicolas Carr, Mishelle Fordham, Chris Gresham, Matt Hall, Jeffrey Hutchins, James Lifton, Paulette Lifton, D.J. Lynch, Aran Tanchum and Kimberlee Vanek (2012) • Mishelle Fordham, Vincent Guisetti, Jeffrey Hutchins, James Lifton, Paulette Lifton, D.J. Lynch, Wes Otis, Monique Reymond and Aran Tanchum (2013) • Devon Bowman, Nicolas Carr, Mishelle Fordham, Jeff Hutchins, Aran Tanchum and Vincent Guisetti (2014)

Outstanding Sound Mixing for an Animated Program
Nominees: D.J. Lynch, Justin Brinsfield, Ryan Greene, Manny Grijalva, Jeff Hutchins and Aran Tanchum (2020)