Queen Elizabeth II: The naval college where the monarch met the duke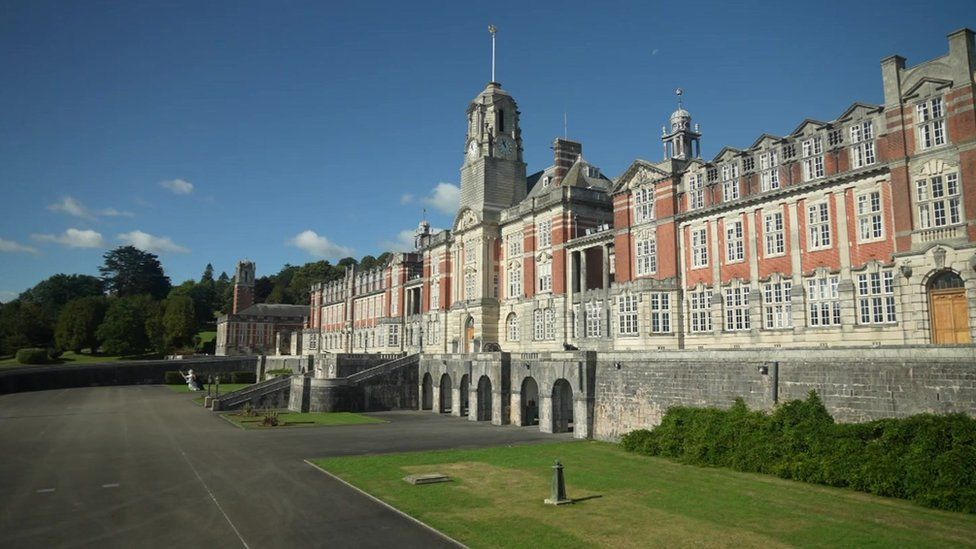 A naval college has reminisced on its pivotal role in history as the first place Queen Elizabeth II met her husband the Duke of Edinburgh.
She visited Britannia Royal Naval College in Dartmouth in 1939 with the Royal Family, where she was formally introduced to Prince Philip.
The couple continued their relationship throughout World War Two by writing to each other, before marrying in 1947.
Staff and those training at the college have been paying their respects.
Dr Jane Harrold said the college held a "special place" for the Queen and Prince Philip.
The historian and lecturer in strategic studies said: "While the King and Queen were off doing their official duties they needed somebody to look after the two princesses and who better to look after a couple of princesses than a prince?
"Strictly speaking, they had met before, but those were very formal, official occasions and Elizabeth wrote later that this was the first time she remembered meeting Philip, which I think makes it the significant meeting."
Queen Elizabeth and Prince Philip returned to the college often to oversee the new naval officers passing out.
Capt Sarah Oakley, captain of the college, said its award ceremonies may now differ slightly.
"We had the presentation of the Queen's sword and the Queen's telescope to cadets who had performed particularly well during training so I'm expecting, although not assuming, that those awards will now become the King's sword and the King's telescope," she said.
Officer cadets in training began serving the Queen but will pass out serving her son, King Charles III.
"[What] I find probably most surreal is I started training under Her Majesty and I'm very proud to have joined the Queen's Navy, however I'm proud that I'll have the opportunity to pass out in December in the King's Navy and I have no doubt that His Majesty will follow in the footsteps of his late mother, the Queen," said officer cadet Ryan Parker.
Officer cadet Andrew Miller said those joining the military do so to "serve our country but also the monarchy, so there is also that incredibly special relationship between everyone here and the monarchy itself".
The Queen held the title of Lord High Admiral, which has now been passed to the King.
Related Internet Links
The BBC is not responsible for the content of external sites.