Readers Say
These are the 10 most beautiful buildings in Boston, according to Boston.com readers
"It never failed to take my breath away, no matter how often I went!"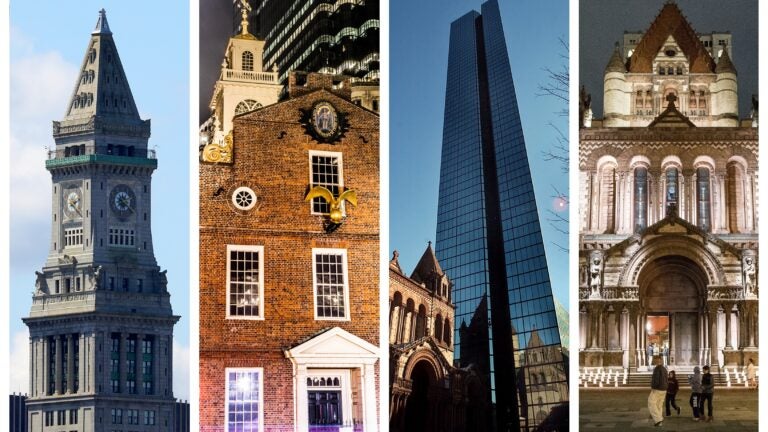 Last week, prompted by a study naming Boston City Hall the fourth ugliest building in the world, we asked Boston.com readers if it was really that ugly, and what other ugly buildings they thought blighted the cityscape. It was, in retrospect, kind of a downer.
Which is why we're happy to now report the findings of the other question we asked in that poll — namely: What would you consider to be the most attractive building in Boston? The query resulted not only in an impressive top 10 list of beautiful buildings, but also some impassioned explanations from the almost 500 readers who replied as to why the structures in question moved them so.
One takeaway from the results is that in Boston, we like 'em old: Four of the buildings originated in the 1700s, three in the 1800s — and only one notched in from the latter half of the 20th century. (No spoilers, but one clue: It's wicked tall.)
Check them out below, in order of most-mentioned to least, and under that you'll find your chance to weigh in with your own pick and see the results in real time.
1) Boston Public Library
Address: 700 Boylston St.
Year: 1895; expanded 1972; renovated 2016
Designed by: Charles Follen McKim of McKim, Meade, and White (original building); Philip Johnson, with the Architects Design Group of Boston (1972 addition); William Rawn Associates, Architects, Inc. (2016 renovation)
History: The current complex in Copley Square is actually the library's third iteration, after opening in a former schoolhouse on Mason Street in 1854 and moving to a new building at 55 Boylston St. in 1858. A 1972 expansion added the Boylston Street Building to the original McKim Building, as they are known, and a 2016 renovation introduced a "21st century urban library experience" to the property. The McKim Building was designated a National Historic Landmark in 1986.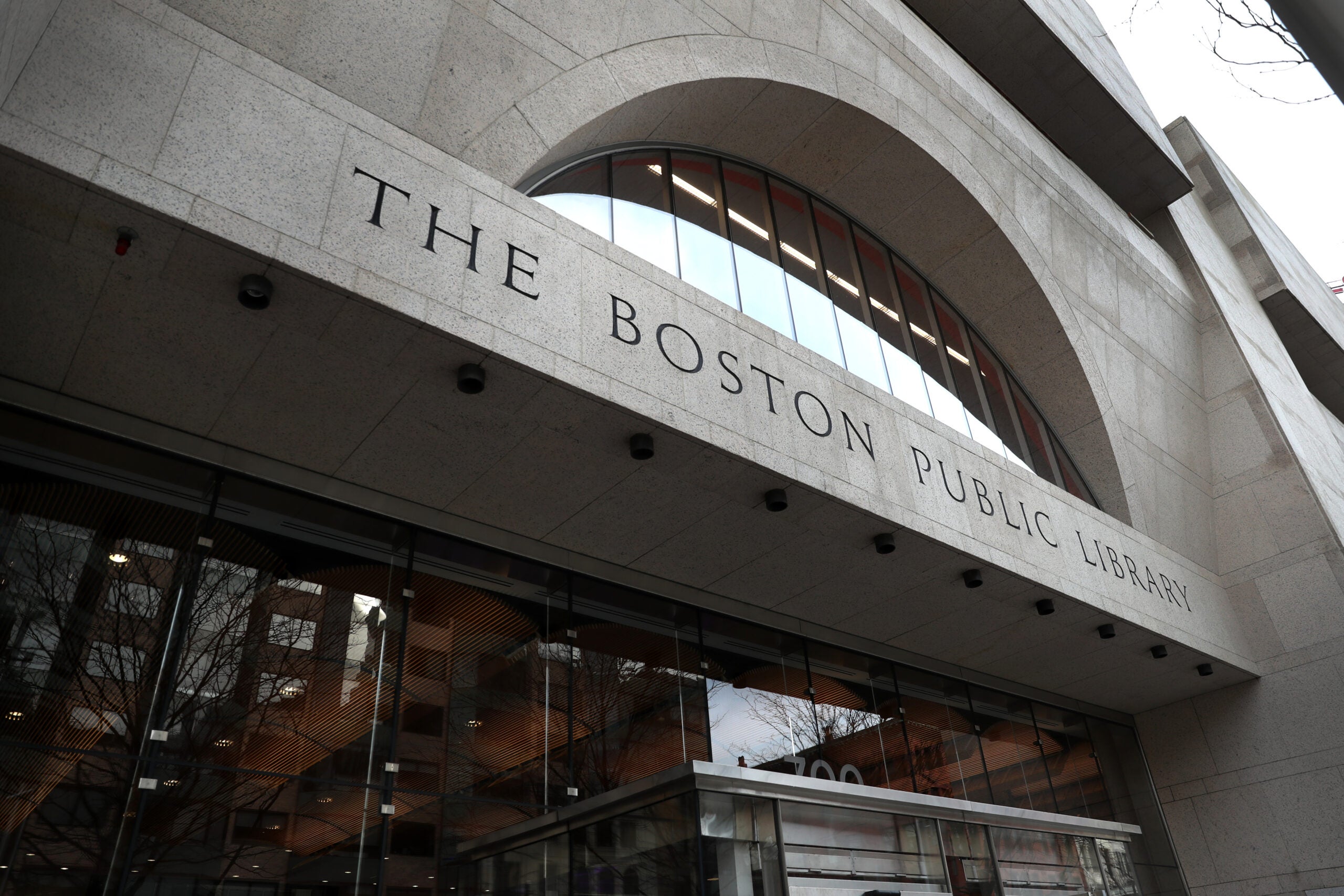 Reader comments:
"Welcoming and majestic. Its symmetry and scale draw you in." — Katherine G., Fenway
"I love the Boston Public Library. The way they've integrated the old and new building, it's so welcoming to everyone. I took and gave many tours there when I was a student activities coordinator for our foreign ESL students, and the paintings, the history, the architecture, it never failed to take my breath away, no matter how often I went!" — Meliena D. Weymouth
"What's not to love? It's got, like, everything. Modern, recent additions, historical elements. All well meshed together. And that's not even getting into its purpose. Public libraries are supposed to be palaces for the people, and the central branch accomplishes that." — Anonymous
"I've always been partial to the Boston Public Library's McKim Building in Copley Square, with its inspirational Renaissance Revival architectural style. The soaring, arched beauty of the Bates Hall research/reading space is a marvel unto itself. It's a magnificent structure and a fitting tribute to the city's rich history and culture." — Brian N., Lowell
"Its visual grace and public importance continues to be outstanding. The interior of the building is uplifting via the soaring lobby, and is user-friendly as well. The courtyard is also a lovely space, and well used in the warmer months." — Leslie M., Jamaica Plain
"It's probably just me and my knowing what's inside, but the lions and the front steps of the library always were such an inviting prospect. I was always excited just taking the first steps up to the door. That was 40-50 years ago; now, I'm thrilled that the building is accessible — I wouldn't be able to go inside if it weren't." — Anabel G., Lexington
"The contribution to Copley Square, the program, the beautiful reading room, the courtyard. The building includes inspiring details as well as public spaces that are grand and rich, yet intimate and engaging." — Chris, Salem
2) 200 Clarendon Street (a.k.a. Hancock Tower)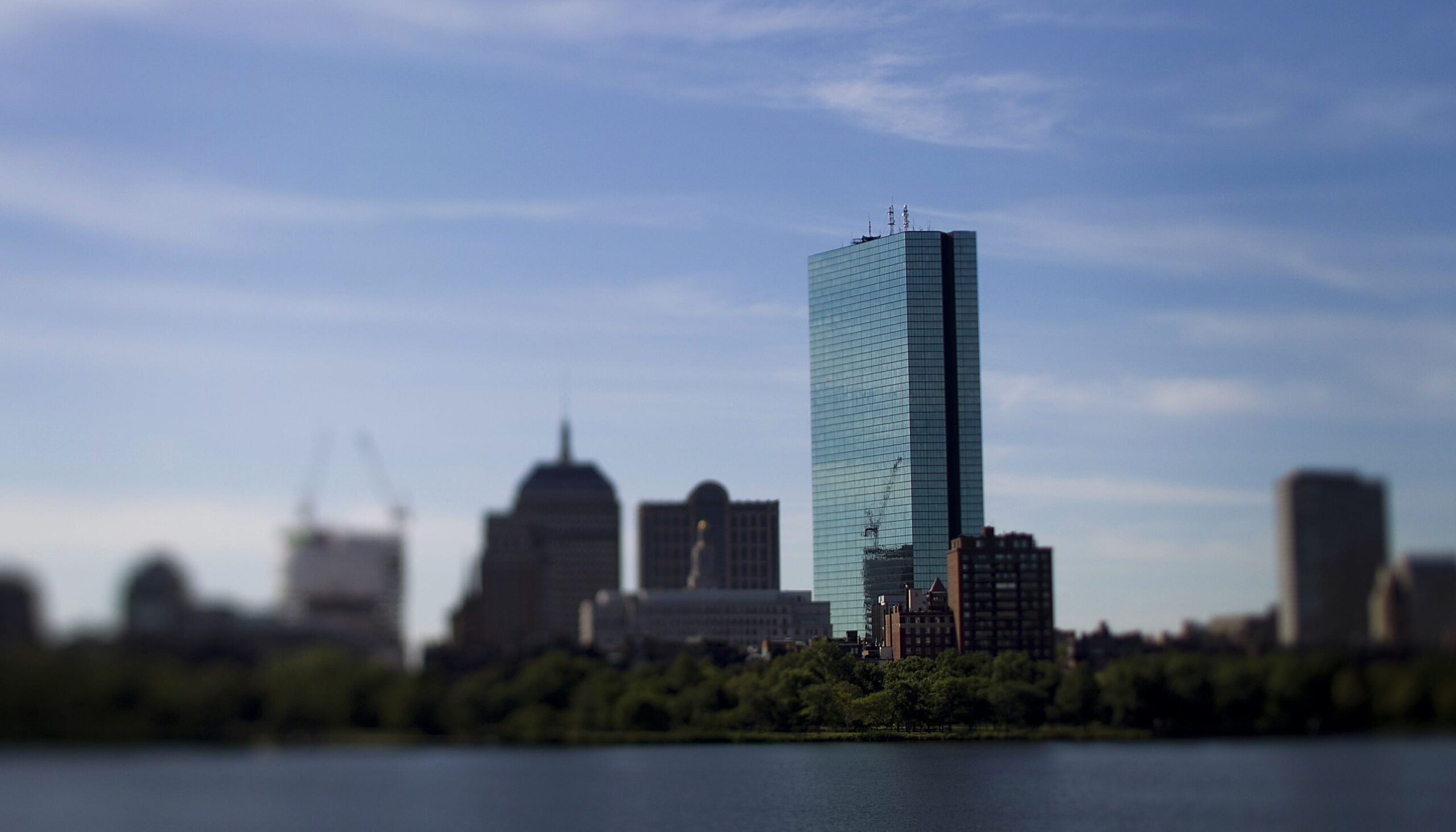 Address: 200 Clarendon St.
Year: 1976
Designed by: Henry Cobb, I.M. Pei & Partners
History: Boston's tallest building ran into a couple of bumps when it was being built in the late '60s and early '70s. Several nearby buildings, including the Trinity Church, were damaged during the digging of the foundation; and when huge sheets of glass started falling from the building — earning it the nickname "The Plywood Palace" when the glass was temporarily replaced with painted wood — all the panes had to be replaced with higher-grade material. Also, the realization that under certain conditions the building could, well, tip over (!) resulted in the need for additional bracing of the inner core. Regardless, soon after opening it attained iconic status on the Boston skyline.
Reader comments:
"Is it weird to say the new John Hancock building? It has fantastic proportions, and the little details like the notch down the sides and the slit at the top keep it from feeling monolithic. It looks refined and elegant, almost more like the Bunker Hill monument than the neighboring skyscrapers." — Ethan W., Braintree
"The John Hancock Tower because it is a mirror. The ultimate contextualist. It defers to its beautiful neighbors by reflecting them, and it changes its mood with the weather and sky. It also is a completely different building when viewed toward the skinny side vs. the big flat mirror side. And when the angle is just right it looks two-dimensional, and if the sky is right it appears almost transparent. I'm just moving back to Boston after 18 years in Chicago, arguably the greatest modern architecture city in the country, but the Hancock (here) is still one of my absolute favorites." — Lisa W., North Andover
"Well, buildings will come and go, but the Hancock will stand the test of time next to the Trinity Church. Old and New reflect well off each other." — B. Myers, Boston
3) Massachusetts State House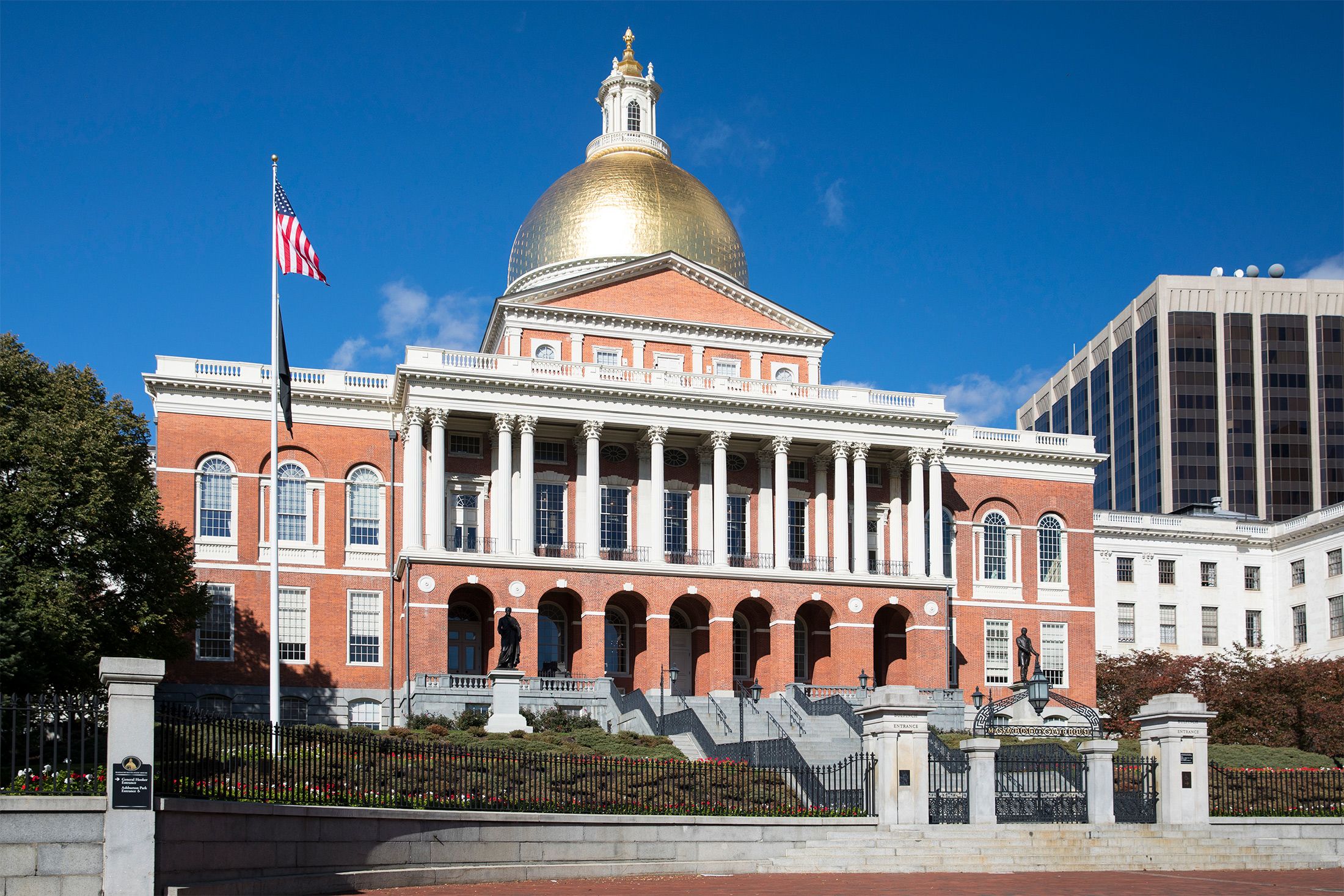 Address: 24 Beacon St.
Year: 1798
Designed by: Charles Bullfinch
History: Bullfinch was inspired by the Greek and Roman temples of Europe for his neoclassical-federal design of the famous golden-domed building on Beacon Hill. Did you know there's a gilt pine cone at the top of the dome as a symbol of the forests that made it possible for the early settlers to survive? Well now you do. Also, the original gold leaf on the dome cost $2,900; its 1997 refurbishing cost more than $300,000.
Reader comments:
"The State House is graceful and beautiful, even from a distance. It is historic and makes me proud. There is much tasteful carving and decoration, and it is perfect for the site in the city." — Anonymous, Allston
"Commanding but not massive, stellar dome, landscape below." — Robert B., Needham
"Everything about that building is historic and grand alongside my favorite part of the city." — Stephanie W., Dorchester
4) Trinity Church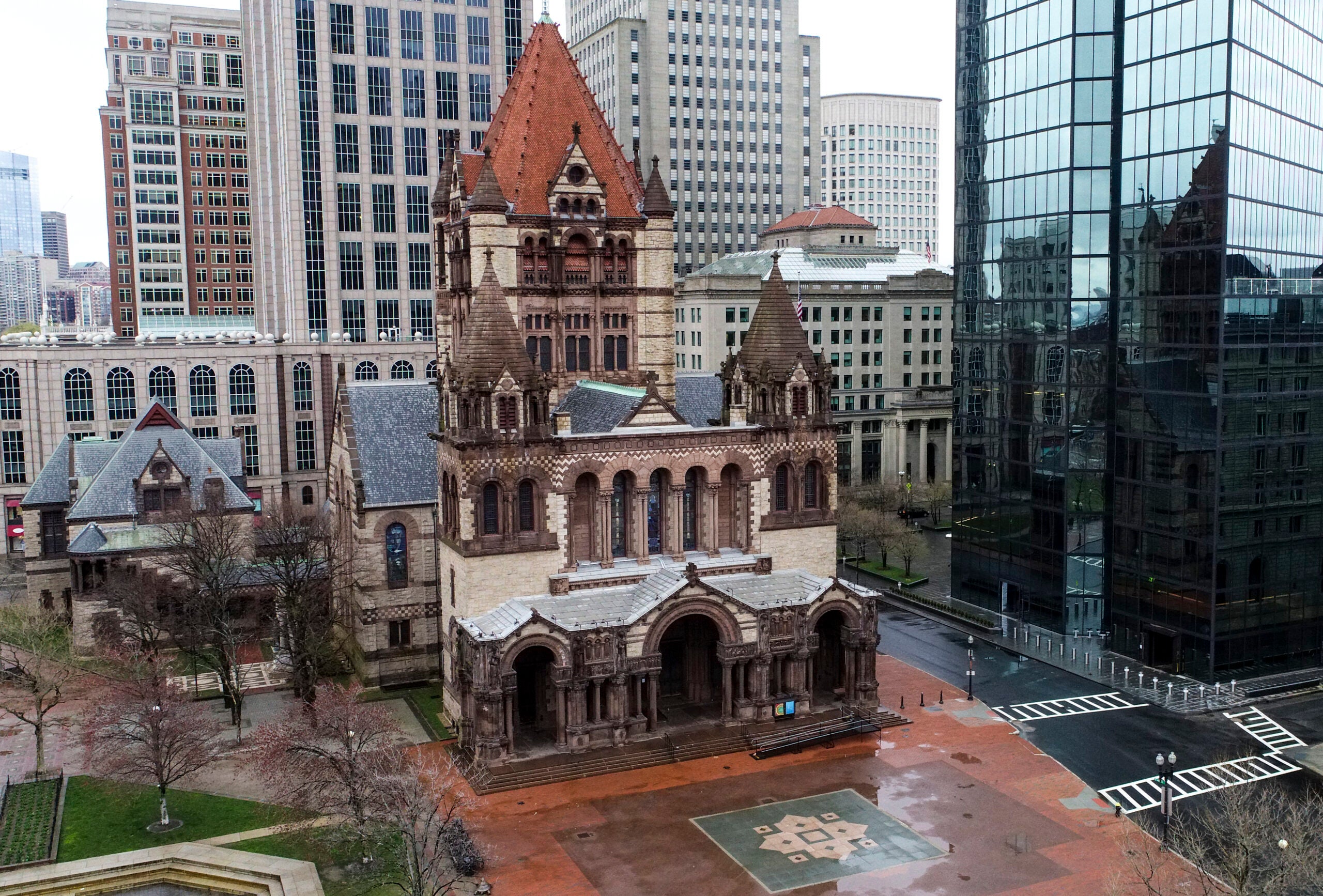 Address: 206 Clarendon St.
Year: 1877
Designed by: H.H. Richardson
History: Named one of the most significant buildings in the country — twice! — by the American Association of Architects, Trinity Church's open auditorium concept was considered a big departure for church design in the U.S. when it opened in the 1870s. The prodigious efforts of painter John La Farge, meanwhile, aimed to create "the feeling that you are walking into a painting." The outside doesn't look half bad either, especially as reflected by the Hancock Tower next door.
Reader comments:
"Do I have to pick one? Trinity Church, designed by H.H. Richardson in his signature style, Richardsonian Romanesque — it is simply (chef's kiss) amazing." — Eleni
"Feels like a safe answer but it's just so iconic and beautiful." — Connor K., Malden
"It's got class, distinction, intrigue, and is beautiful both inside and out. Plus you gotta love the 4,500 pilings holding it up!" — Susan W., Cambridge
5) Custom House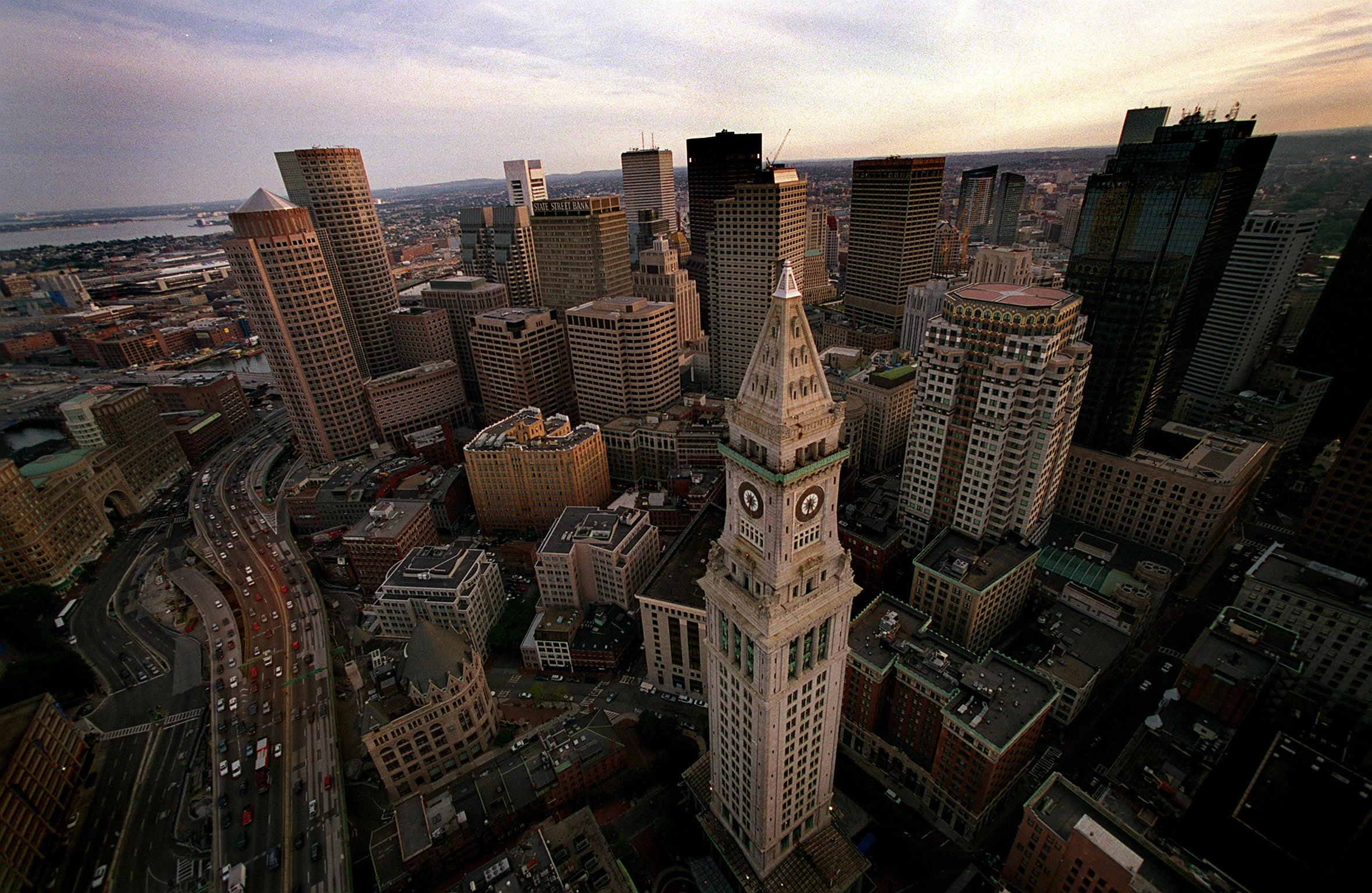 Address: 3 McKinley Square
Year: 1849; tower added in 1915
Designed by: Ammi Burnham Young, original building; Peabody & Stearns, tower addition
History: The monitoring and enforcement of trade in Boston Harbor had to happen somewhere, and the Custom House was the place to do it. In fact, that trade was so robust that when the original structure could no longer accommodate the operation, they added the building's now-iconic tower addition — a federal exemption to local zoning laws allowed it to rise 371 feet over the 125-foot limit, making it the tallest building in New England until the Prudential Tower usurped it in 1964.
Reader comments:
"It always was cool to me. Seeing the clock lit up at night the first time from Quincy Market when I was starting grad school fascinated me and started the love. It's an iconic piece of the city." — Anonymous, formerly of Fenway
"This is the epitome of Boston." — Brian, Winchester
"The iconic clock tower that sparkles at night." — Biz, Wakefield
6) Old State House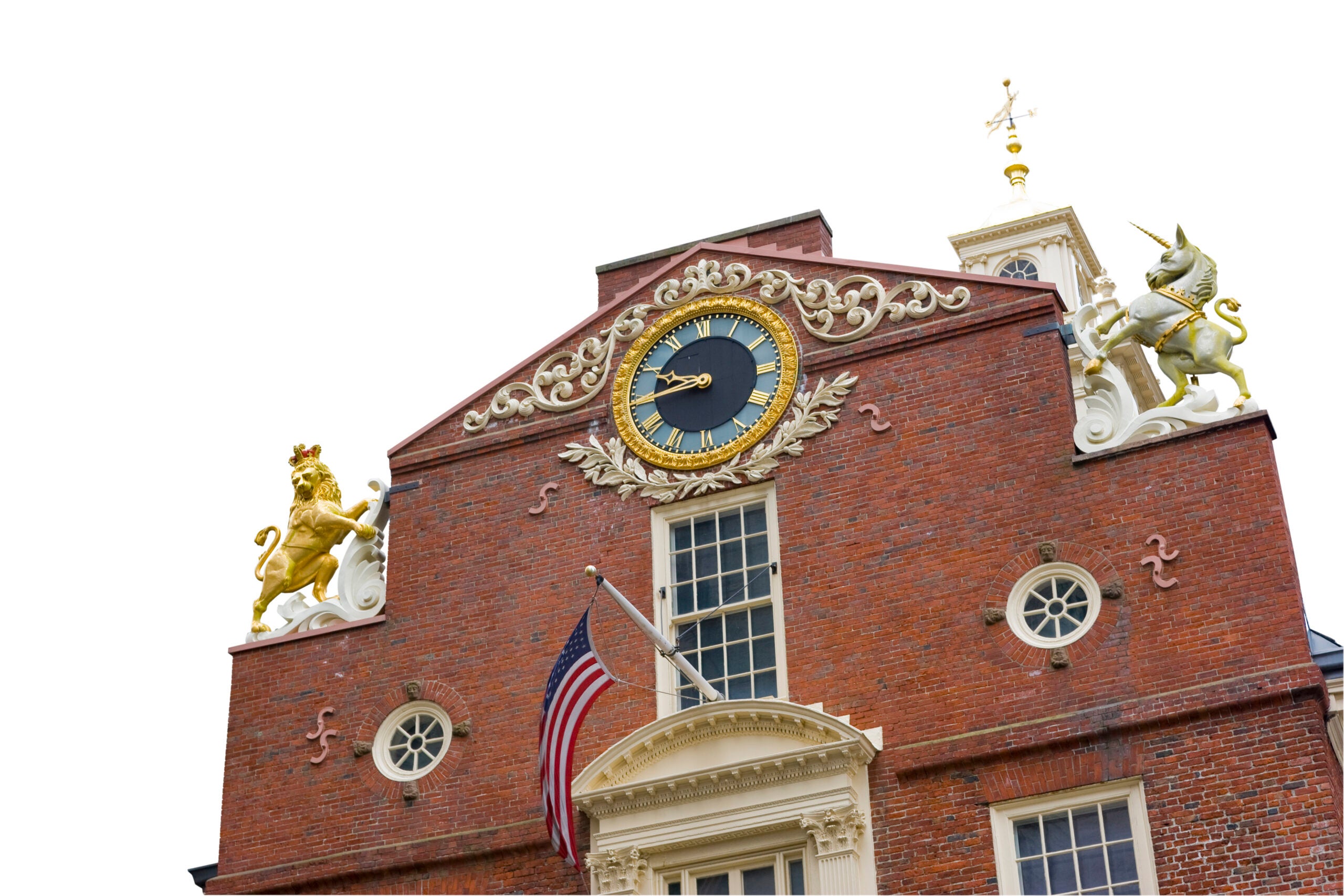 Address: 206 Washington St.
Year: 1713
Designed by: Unknown, although sometimes credited to Robert Twelves
History: The Old State House's connection to The Crown (King George, that is, not the Netflix series) is clear from its prominent use of a lion and unicorn — royal symbols of the king of Great Britain. Built after fire claimed the wooden Town House that preceded it, the State House and its courtroom soon became a hotbed for the burgeoning rebellion, and was referred to by John Adams as the place where "the child independence was born." It was also, of course, the famous backdrop for the Boston Massacre of 1770.
Reader comments:
"Charming, and I especially like the way it's nestled up next to a variety of modern buildings, creating a beautiful and unique, only-in-Boston contrast." — Tim M., Boston
7) Fenway Park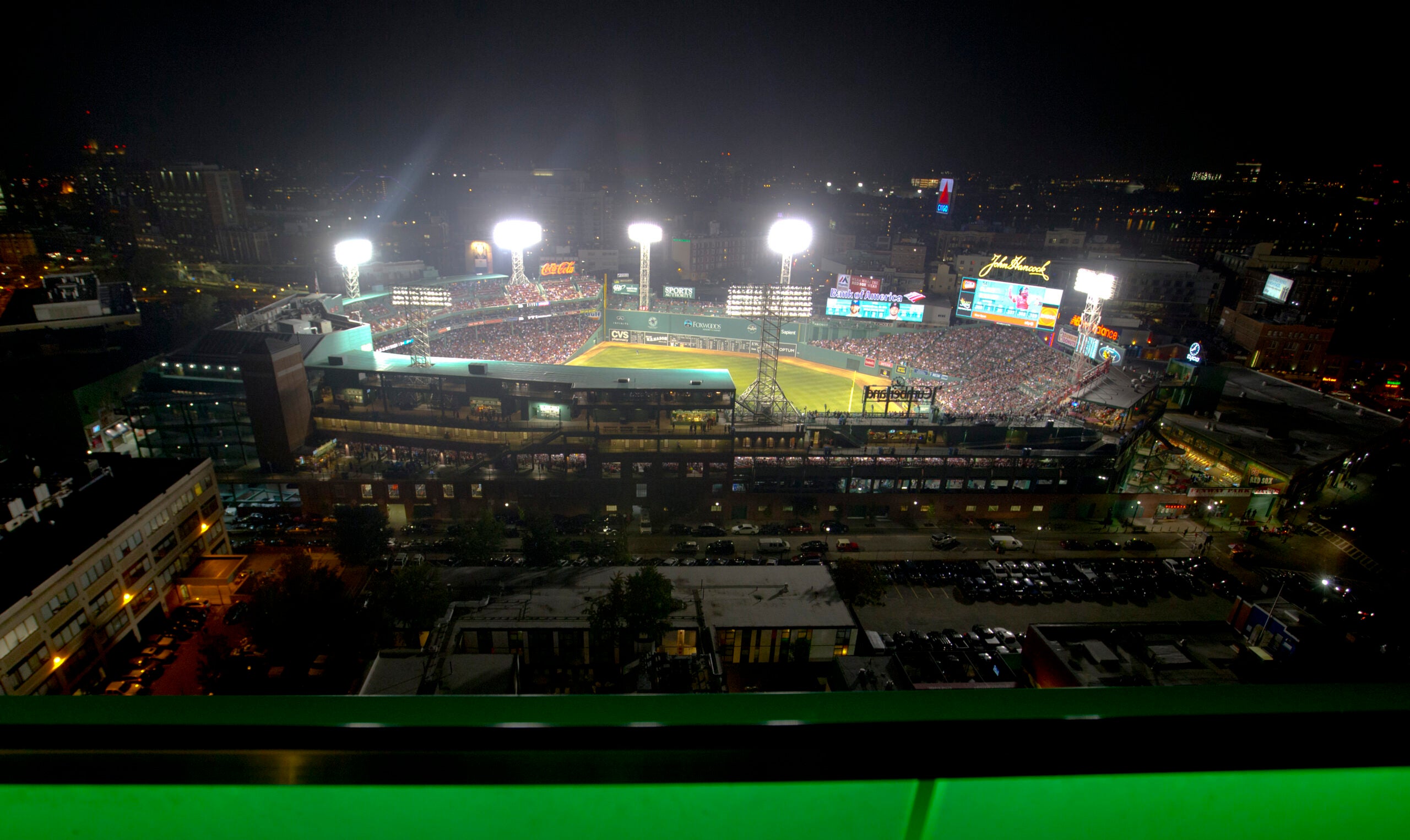 Address: 4 Jersey St.
Year: 1912; rebuilt in 1934
Designed by: James E. McLaughlin
History: Famously opened in 1912 with an 11-inning, 7-6 victory over the New York Highlanders (take that, future Yankees!), the origins of America's most beloved ballpark are well known. People often tend to forget, though, that it was the devastating fires of 1926 and 1934 that led to the renovations and additions that made Fenway into the park we know it as today — including the famous Green Monster.
Reader comments:
"For its history." — Brandon H. Plymouth
8) Faneuil Hall
Address: 1 S. Market St.
Year: 1742; enlarged in 1806
Designed by: John Smibert, original building; Charles Bullfinch, enlargement
History: Smibert, a well-known colonial-era portraitist, was strictly a dabbler when it came to architecture, and when he drew up Faneuil Hall's original plans he probably had no idea he was designing what would become a Boston cultural icon for centuries to come. Enter Charles Bullfinch, to whom we can credit much of the building's current appearance, and who's much better associated with it these days than poor old Smibert. Faneuil Hall is of course now four separate structures — Faneuil Hall, Quincy Market, North Market and South Market — but it's the unfortunately named original building that Boston.com readers mentioned most.
Reader comments:
"The brick facade is wonderfully maintained. Windows let in light. Many entrances that welcome you. Proudly seated building." — Marie Elena S., East Cambridge
9) Isabella Stewart Gardner Museum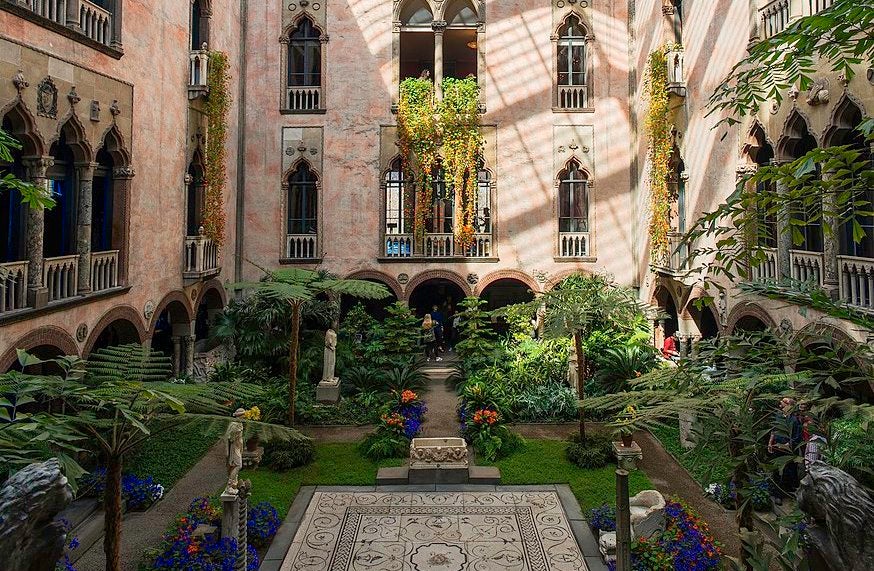 Address: 25 Evans Way
Year: 1903
Designed by: Willard T. Sears, with (shall we say) significant input from Isabella Stewart Gardner
History: Isabella Stewart Gardner apparently had some pretty strong opinions about how she wanted her museum to look, famously going straight to workers to have them redo elements she didn't like, and forcing the architect Sears to act as a buffer between them when he saw her coming. But it was her money, after all. Plus, the wealthy art collector had, with her husband Jack, traveled to Italy gathering architectural fragments to be used in the museum, which she envisioned in the style of a 15th-century Venetian palace — albeit, with its lavish courtyard, "a palace that has been turned inside out," as architecture critic Robert Campbell described it.
Reader comments:
"Isabella Stuart Gardner Museum, Old City Hall, and the State House truly symbolize the history and beauty of our city." — Ally, Westwood
10) Rowe's Wharf
Address: Rowe's Wharf (obviously)
Year: 1764; renovated in 1987
Designed by: Original architect unknown; 1980s structure by Adrian Smith of Skidmore, Owings and Merrill
History: It's unlikely that developer and merchant John Rowe would be able to recognize the wharf he first built for commercial shipping purposes in the 1760s. Thanks to a major $193 million mixed-use development project in the 1980s, this jewel of Boston's waterfront now includes the Boston Harbor Hotel, retail merchants, offices, and private residences. And not the cheap kind, either.
Reader comments:
"It proves that it is in fact possible to build something that reflects the things we love about older buildings without looking kitschy, cheap, or ironic. I only ever set foot inside it once, but I enjoyed it every time I walked by it (or through it, or around it)." — Dan, St. Paul, Minnesota (formerly of Dorchester)
Which of these is the nicest building in Boston?