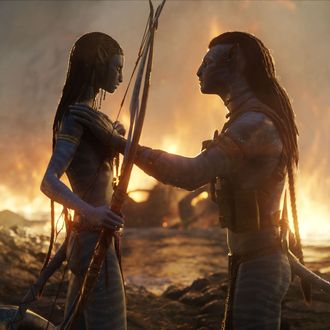 Photo: 20th Century Studios
Sivako? Starting today, you can finally sivago to your digital platform of choice to watch James Cameron's epic sequel. Maybe not in the way he necessarily intended you to see it, but judging by the box-office numbers, most of you have already checked out Avatar: The Way of Water in theaters anyways. Now, hot off winning the Oscar for Best Visual Effects (naturally), Disney is bringing the Avatar sequel in 4K Ultra HD to folks at home to purchase on Amazon, iTunes, Vudu, and all the rest of the usual suspects. The film's arrival marks the arrival of bonus features that rival the length of the movie itself. Vudu boasts that it'll have Inside Pandora's Box, which looks into the making of new technology to create the visual world of Pandora. Another featurette will focus on Spider, Miles Quaritch's white son with dreads.
While The Way of Water is hitting digital, some may be holding out for when it arrives on one of Disney's streaming services (Disney+ and/or Hulu) soon after. For now, there's no word on when that'll happen. Most of Disney's theatrical releases take about three months before they hit Disney+, as was the case recently with Black Panther: Wakanda Forever. (The animated Strange World, which flopped theatrically, went to Disney+ after just one month.) But with the box-office success of Cameron's sequel, it's easy to think Disney would want to milk that a bit more by letting it live a second life on digital platforms for a while longer before hitting its third leg on streaming services.