Thomas Markle's Photographer Friend Visited House Next to Meghan's Mother's
A photographer friend of Thomas Markle who snapped Prince Harry and Meghan Markle at a polo game last Saturday, also recently visited the house next door to the duchess's mother, Doria Ragland.
Karl Larsen set up a YouTube channel with Meghan's father in March 2022 and the pair regularly use it to criticize the Duke and Duchess of Sussex.
The freelance photographer said on YouTube that he had attended an open house viewing at the property next to Ragland's and that he heard the sound of kids playing. That left open the possibility he may have been referring to Harry and Meghan's children, Archie and Lilibet Mountbatten-Windsor.
When approached by Newsweek, the photographer suggested he had only been "making fun" and didn't believe it was actually the Sussex children making the noise.
Larsen said on the YouTube channel he shares with Thomas Markle: "They [the neighbors] have a jacuzzi in the backyard and I could hear kids playing. I could hear kids playing, there were no kids in the yard I was at but I could hear kids playing."
He then told Newsweek: "I was actually making fun. I didn't hear them I said I heard kids' noises. To be honest with you I don't want to start the rumor any further than it is. It was to make the show interesting actually."
Larsen made the comments after Thomas Markle suggested his daughter and son-in-law may have left Archie and Lilibet with the nanny.
The photographer replied: "Or they were at Doria's house because I have some news to tell you about Doria's house. I was just driving by and I noticed that the house next door to Doria was not only for sale for $1.5 million but they were also having an open house when I drove by.
"And I thought about you and I, that we could go in together and buy the house next to Doria and we could do our show from L.A. instead of here and then that way you would be closer to your grand kids."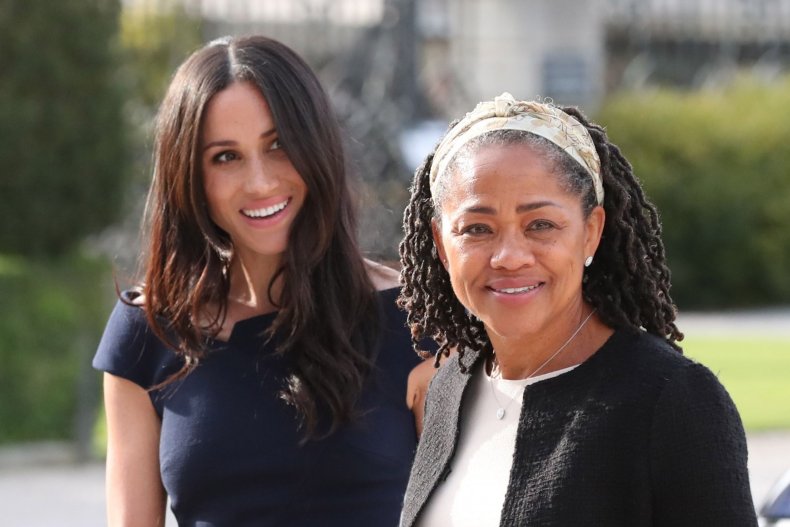 Larsen appeared to attempt to convince Meghan's father to buy the property so they could host their YouTube videos there and rent it out to fans on Airbnb.
He said: "We'll just take out a loan. You just come up with 20 percent. I have an idea, you and I could Airbnb it. How about that people?
"Thomas and I buy the house next door to Meghan's mum Doria and we Airbnb the rooms and you come out and meet Thomas, meet myself."
Larsen told Newsweek: "That's half of a joke. I said it would be great, we could open up bed and breakfast and have people that love our YouTube channel come and stay with us. I'm an entrepreneur, so... But of course, I was joking but yet if he was full force that wanted to do it then it would happen."
Thomas Markle appeared uncomfortable during the discussion and repeatedly poked holes in the proposal before changing the subject.
Pictures of Meghan and Prince Harry sharing a kiss were taken by Larsen at the Santa Barbara Polo and Racquet Club, on Saturday, May 21, and were published in the British press.
Larsen told Newsweek the images were obtained legitimately and that guests at the polo were allowed to take photographs.
He said: "The polo match was a public event. Everyone was allowed to take pictures but no one came to take pictures. I wouldn't have put my name on the photo if it was dodgy at all."
He added: "You were allowed to take pictures."
The debacle comes after Prince Harry has repeatedly condemned media intrusion into their lives, at times referencing the experiences of his mother Princess Diana.
Thomas Markle has himself complained about paparazzi photographers camping outside his home in Rosarito, Mexico.
He told Good Morning Britain in March 2021: "For an entire year, outside my house, somebody was taking photographs of me. I couldn't go anywhere or do anything without being photographed buying something, coming out of a store."
There were also reports of photographers moving in next door to him, the Washington Post reported.
Newsweek approached Meghan and Harry's representatives for comment.
For more royal news and commentary check out Newsweek's The Royal Report podcast: