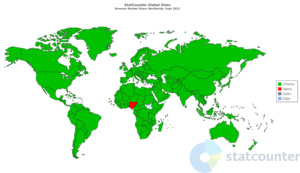 According to the latest browser market share statistics published by StatCounter, there is currently exactly one country in the world where Google's Chrome is not the most popular browser.

And that country is Nigeria. Even in Nigeria, the change happened only in September, 2021 - before that, Chrome was the #1 browser in Nigeria, too.

In Nigeria, the most popular browser is currently Opera. We had to dig bit deeper to find out the reason for this phenomenom. It seems that the surge of Opera's popularity is down to two factors: most of the net browsing in Nigeria is done by mobile phones. In desktop, Chrome dominates the market also in Nigeria, but as mobile usage is so much bigger in Nigeria than desktop, the desktop market share means much less in big picture.

Secondly, the most popular phone brand in Nigeria is Tecno, a relatively unknown brand outside Africa. Tecno ships most of its phones with Opera pre-installed. And it seems that people are quite happy using the Opera, too. Thus, the pre-installed browsers found in most popular brand's phones managed to do the seemingly impossible task: it overtook Chrome.
Read more...
---